DRAW THE SOUL: Summer programs help students' anxiety and developmental challenges with artistic expression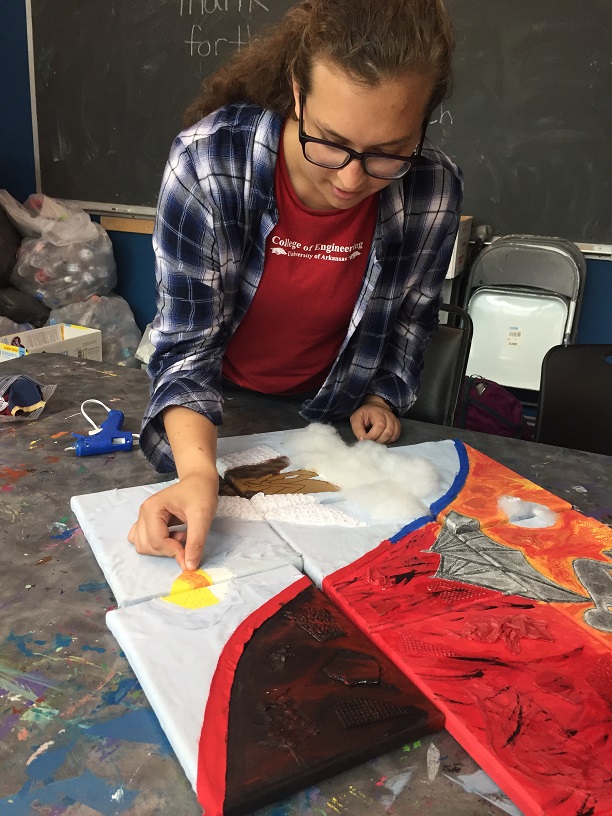 WORDS / YANI KO
PHOTOS COURTESY / LIFE STYLES, INC.
It's the last day of the SENSE-sational Summer Camp, part of Children's Therapy TEAM's all-inclusive art therapy program geared toward children with developmental and intellectual disabilities. 
The lively group is decked out in colorful aprons and chef's hats as volunteers pass out fruits and vegetables and lead the students in creating their own dishes. Every day of the week, campers ranging from 4 to 12 years old were tasked with exploring one of the five senses through art-based projects. Today they are exploring the sense of taste and will end their culinary adventure by making dessert—a "dirt and worms" cake.
"As an occupational therapist I've seen a need for various sensory experiences for kids because those are pretty difficult areas for a lot of them," says Whitney Garrison, who coordinates the TEAM Talent art therapy program. "If you want to experience some sort of sensory sensation or therapy tool it can be a challenge, but when you add an art form into it, it becomes fun and it becomes play for the child. They are able to achieve way more therapeutic gains because of art."  
Children's Therapy TEAM is a pediatric clinic offering physical, occupational, speech and developmental therapies. This year was the TEAM talent art program's first week-long summer camp, held at the Grace School at Children's ABA TEAM on Joyce Boulevard. 
One of the goals at the camp is to help children overcome obstacles involving their sensory triggers and behaviors by investigating the five senses themselves. 
Throughout the week, these challenges included experiencing loud continual noises when they made musical instruments, handling messy textures while making paper lanterns, as well as encountering unpleasant scents as they acted as scientists, creating scent bags and identifying them using only their sense of smell.
Art therapy can continue to encourage creative development throughout life. At the Lifestyles Blair Center in Springdale, adult clients with intellectual and developmental disabilities reap the benefits of art classes led by working artists. The Lifestyles art program takes on a more collegiate model with the goal to make the arts more inclusive to people of different abilities. 
"We try to offer pretty much all of the fine arts classes that you would find if you went to the U of A," says Brandi Tyner, an art teacher at the Blair Center. These classes include ceramics, lapidary work, beading, painting and drawing.
The Blair Center hosts two art shows a year and has a generous amount of gallery space devoted to exhibiting client creations.
Tyner, whose background is in graphic design and photography, says that the majority of the clients at Lifestyles are on the autism spectrum or have down syndrome, but the client base is not limited to these abilities. She also says students range in age from 18 to mid-60s.
This afternoon, in a wide open art room brought to life by busy students, abundant natural light and a slew of paint splatters, students are divided into two groups. A handful will work on watercolor paintings and the other half on collages. 
Cyara Gibson, 22, is devoting her class time to her latest masterpiece and favorite artwork to date—a "yin and yang, heaven and hell multimedia collage," as she describes.
Her seven-canvas installation is taking shape with fluffy clouds made of cotton and outlines of faceless angels and demons that are soon to be filled in with paint. She says she will find fire inspired fabric and incorporate some charcoal into her work as well.
"I like all art," says Gibson, "It's very calming. Any form that I don't have to draw a face. It's like [. . .] if I'm stressed I just start drawing."
Brendan Baker, 21, who is working on a mismatched-body-parts collage of his own featuring Bruce Willis's head paired with fishnet-clad dancer's legs, says that he benefits from his art classes at Lifestyles through creating and from the help of his teachers.
"For me, it's more like a good way to get rid of anxiety and pressure," Baker says. "If we need [our teacher's] help they'll just guide us and show us how to do it but they won't do it for us."