New take on adult coloring puts colorists to w-e-r-k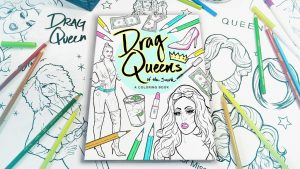 WORDS / JULIA TRUPP

Grab the glitter glue and colored pencils because this isn't your average coloring book. Sure, mandalas and ocean scenes are relaxing, but how many must you color to feel satisfied before they all start looking the same? Enter Kasten McClellan Searles.
"Drag Queens of the South: A Coloring Book" is the brainchild that came from Searles' love for drag and her love for drawing and illustration. It all started as a teenager when she snuck out of her house to her first drag show. A few years later when she was in graduate school, she and her friends would visit The Rose Room in Dallas and she found herself so enamored by the performances.
"Jenna Skyy and Cassie Nova lit up the stage with grace and humor," Searles said.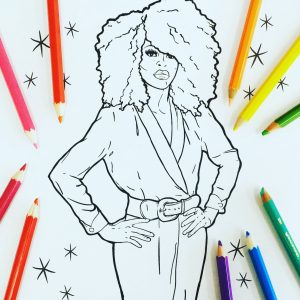 With the increasing popularity of adult coloring books, she decided to fuse the two passions and create what she said is the most ambitious coloring book she has taken on since she started making them six years ago.
"I started dreaming up a project… Drag and the coloring book format is a perfect fit. The hair, the fashion, the makeup, the nails — who wouldn't want to color all that?"
And "Drag Queens of the South" was born. She doesn't do drag herself, but she likes seeing the shows and meeting performers in person, so she decided to stay close to home base by visiting Queens and Kings in Little Rock, Memphis, Dallas, New Orleans and Fort Worth.
"Many of our local Queens may not be as visible as the ones on "(RuPaul's) Drag Race," Searles said, "but they are just as amazing."
By day, 36-year-old Searles is an assistant professor of graphic art and media design at Henderson State University in Arkadelphia, where she teaches students art, design and illustration. By night she is finding the next fierce subject for her project – and then enjoys the show.
Once she has her reference photos, she renders the illustrations with an iPad pro and accompanying Apple Pencil, and then formats them into a book.
As this project has gone on, she has had concerns about who exactly would back it since she began the Make 100 Kickstarter page. The subject is pretty unique compared to a run-of-the-mill mandala or fairytale book.
"I didn't think my own small network of friends, collectors and supporters could push me past my finding goal and as a first time Kickstarter, didn't know how many strangers would be interested enough to back my project," she said. "The Kickstarter community has been amazing and I am over 200 percent funded for this project," which has motivated Searles even more to "get out to the clubs" and finish more drawings.
The book will be available for the next two weeks at $20 through Kickstarter, which ensures supporters get one of the first copies. Local availability depends on how many can be printed.