DIGGING DEEPER into DIG Clothing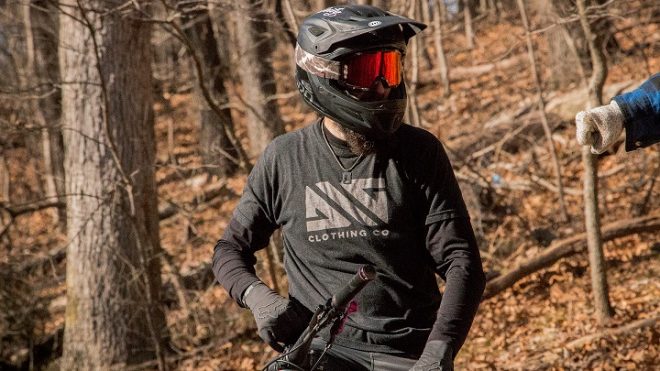 WORDS / CAROLINE BIVENS
PHOTO COURTESY / KELSEY FERGUSON
Bentonville company DIG Clothing designs apparel for mountain biking and trail building enthusiasts and is setting out to build the region's trail building community.
Marketing and Production Director Kelsey Ferguson said DIG Clothing was established in 2016 through the trail building company Progressive Trail Design, or PTD. Through PTD, full trail systems are designed for mountain biking and hiking.
PTD started making outdoor clothing and technical gear to celebrate the growing trail building and mountain biking community.
"We want to get you out there and feel safe on your bike . . . but we can also have [DIG Clothing] be something that you want to wear out to grab a beer with friends," Ferguson said. "That blends the idea of outdoor gear."
The company also wanted a local brand presence in Northwest Arkansas so members of the community could help them accomplish their goal of expanding the trail building community.
"DIG is special because it rallies people around the idea of giving back a little bit and getting out there, [. . .] breaking trail for somebody and helping to pay it forward for the next group of people," Ferguson said. "DIG should be one of those local staples that reminds us to slow down, put in the work, learn the local culture and play a part to maintain and sustain the outdoor recreation within our region."
The trail building community in Arkansas is small but growing. DIG Clothing helps fund some of the volunteer trail organizations maintain trails as a way to give back to the community. The company wants to build appreciation for those who build biking trails and to encourage others to get involved.
"It's grueling physical labor, but at the same you are designing and sculpting the earth into these incredibly beautiful works of art," Ferguson said. "These aren't just projects—these are full pieces of art that these people are creating together."
Ferguson said PTD workers come from biking and construction backgrounds and are also skilled in sculpting, illustration and artistry.
"The number one key to being a successful trail builder is to have an undying passion for what you're doing," Ferguson said.
DIG Clothing is reaching out to Missouri, Texas, Utah and California. Ferguson said that DIG needs room to grow and wants to help connect other trail building communities across the nation.
The company is also constructing a lounge in downtown Bentonville called The HUB Bike Lounge that will rent out bikes and provide information on trails as well as sell Airship coffee, beer and DIG apparel. The casual lounge will feature live music, an outdoor patio and a workspace, and will be a meeting place where cyclists and outdoor enthusiasts can set out on their adventures. DIG hopes to open The HUB in September.