A ROOM OF ONE'S OWN: The Writer's Colony at Dairy Hollow gives writers the solace they need to be productive.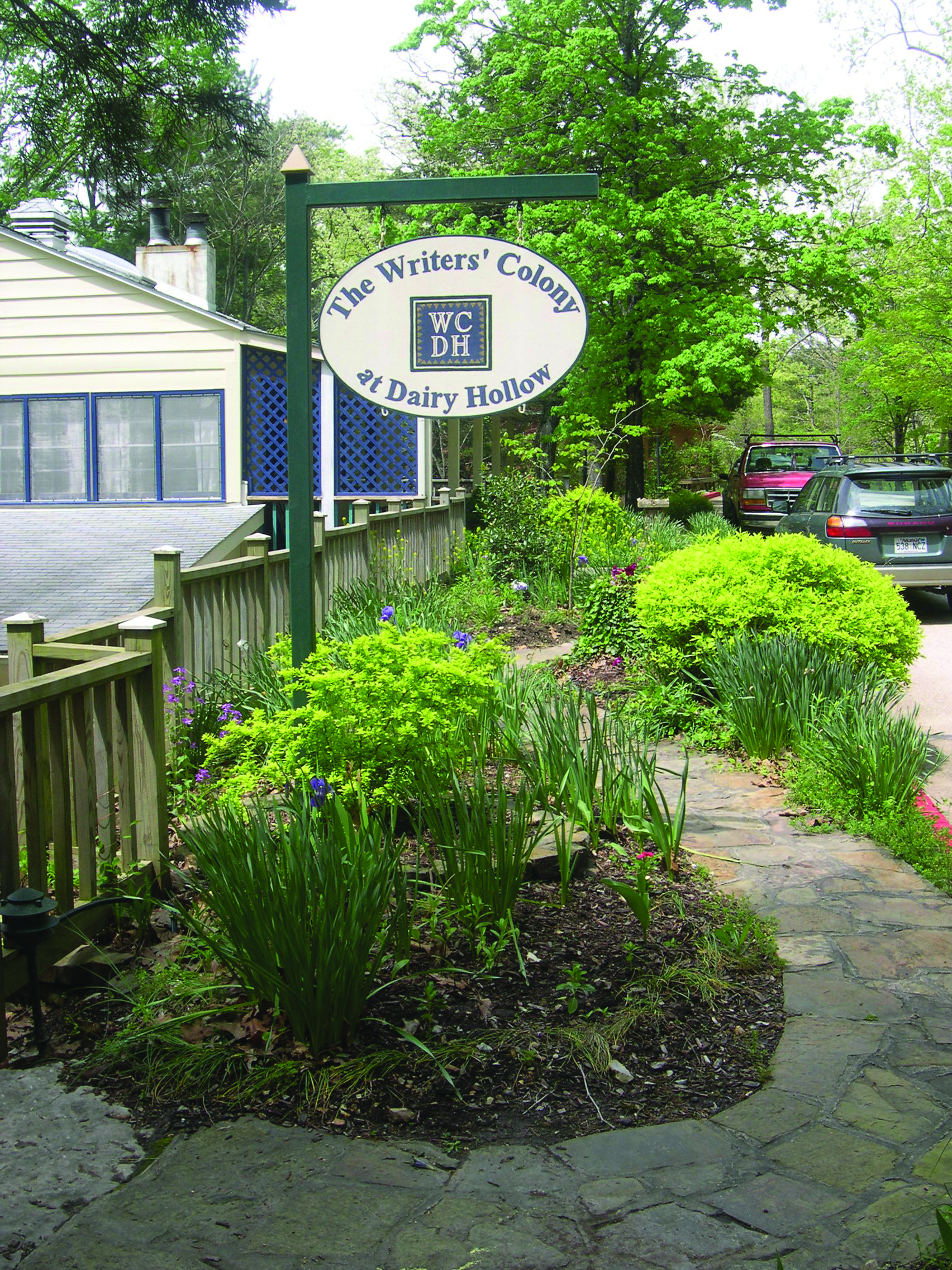 WORDS / KODY FORD
Every writer needs a place to work. For some, it's an old desk in a quiet room with a locked door. For others, it's the ruckus of a public place like the food court at the mall. To each their own. But for those who do like to get away from the grind of daily life, The Writers' Colony at Dairy Hollow has you covered.
     Tucked on a hillside in the shade of the lush foothills in Eureka Springs, The Writers' Colony offers a unique residency program for writers, artists, composers, architects and chefs. Open year round, they host more than 50 established and emerging writers for time frames from one week to three months. (Ed. note:  I have stayed at the colony on two separate occasions and loved it.) The selection process for residents involves an application and a review of their work for either subsidized general residency or a fellowship-funded stay. Writers work and stay in individual suites  equipped with a bedroom, writing area, wifi, a/c, private bath, private entrance and mini-kitchen. Meals are provided by Jana Jones, who tailors the meals to deal with dietary restrictions, allergies, vegan or vegetarian or gluten-free diets or whatever the writer requires.
     Once writers come to the Colony, they often make the trip again. Linda Caldwell, director of The Colony, believes it has to with having the time and space to focus on writing. "There is an energy at the Colony that is very conducive to creativity and writing; almost all our writers comment on how productive they are while in residence," said Caldwell. "There's no laundry, no meals to prepare, no dogs to let out, no kids needing attention or rides; they just write. And most of the time, they have other writers to talk with at dinner. Friendships are often formed here, and they end up coming back at the same time the next year and sometimes hang out together in Eureka."
     The Writers' Colony at Dairy Hollow was formed in 1998, when prolific author, teacher and longtime Eureka Springs resident Crescent Dragonwagon and her late husband Ned Shank closed Dairy Hollow House, Eureka Springs' first bed and breakfast and restaurant which they had operated for 18 years. The couple, both writers and artists, wanted to give back to the community, so they established the Colony as a 501 (c) 3 nonprofit corporation. The Colony's main house with three suites, a great room for gatherings and a commercial kitchen, took the place of the restaurant. The Farmhouse, a few blocks away, was converted into three suites for writers. In 2011, it was sold to pay for  renovating 505 Spring Street next door. The Colony now has a total of eight suites, each with bedroom, private bath and a writing room. One suite is devoted to culinary writers and has a kitchen designed by Renovation Style magazine and furnished by KitchenAid. All suites have coffee makers and small refrigerators, and laundry facilities are available in both houses.
     Fellowships include The 2015 My Time Fellowship For Writers With Children and The 2015 Moondancer Fellowship For Writing About Nature And The Outdoors. Past fellowships include The 2014 Eat-Write! Culinary Fellowship. While this is an amazing resource, like all things, it's not free. Writers pay $60 a night, which includes food, and the actual cost is closer to $125 per night.
"Fundraising is a constant challenge. We plan to do two major events a year in the future to help with fundraising and we're working on organizing several other fundraising campaigns to be done on a yearly basis to help. People can help by donating, obviously, but it's also very helpful to write and talk about their experiences here and to encourage other writers to take advantage of us. The more the word gets out there about the Colony, the better for us."
VISIT:  WRITERSCOLONY.ORG