THE HIGHWAY HOME: Cory Branan on fatherhood, his new album and changing his worldview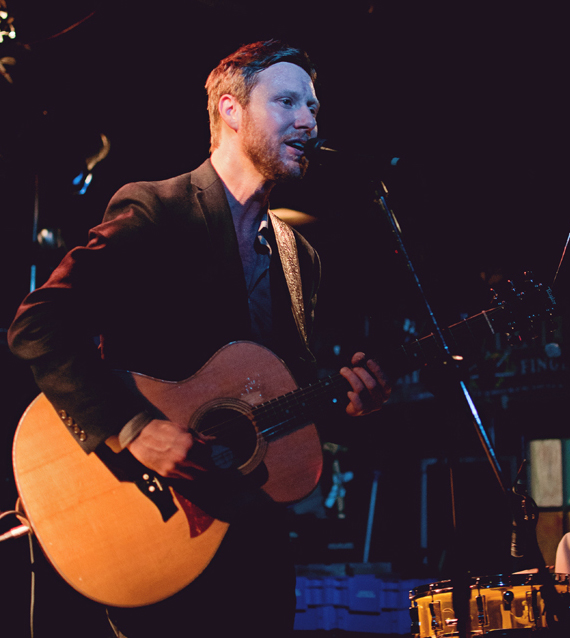 WORDS / KODY FORD
PHOTO / HEATHER CANTERBURY

A little over a decade has passed since Cory Branan's debut landed him in the pages of Billboard Magazine and a performance on The Late Show with David Letterman. Rolling Stone even named him, Ryan Adams and Conor Oberst as part of the new Holy Trinity of singer-songwriters. Branan was on the cusp, but sometimes things don't go according to plan.
Some issues with his former label delayed the release of his follow up record "12 Songs" and then, he took a few years off from recording, although he never left the road or forgot his fans. In 2012, Bloodshot Records released his third album "MUTT," which brought more acclaim and broadened his audience.  Now two years later, the label is releasing his fourth record, "The No Hit Wonder," and things are looking up.
Branan now has two children and a wife and has relocated to Nashville. Despite losing his father and some other family members, having a family of his own has infused his life with a new-found optimism, which he believes shows on this record.
"I tended to be writing a little more about home and, if not necessarily about home, about this sort of life I've chosen and it throws it into stark contrast when you've got a true home and family. It makes going away [on tour] for three weeks a tough choice," he said.
The change in lifestyle has affected his outlook.
"I'm a little like Eeyore—I've been plugging away at [music] for so long I don't expect much to it. And I've had a bunch of bullshit happen the last few years but I've had such preposterous happiness with my kids and my wife that it's really fucking with my worldview. It's harder to say what shit's gonna fall out of the sky on me today," Branan joked.
His debut "The Hell You Say" was gritty and stripped down while "12 Songs" had more of a rock/power pop vibe and even featured an appearance by Big Star drummer Jody Stephens. "The No Hit Wonder" follows the progression of "MUTT," which offered a broader musical palette.
"This is a little more roots record," he said. "Of course, when I say roots, I mean American music.  It's a very broad highway I'm talking about.  My roots are Memphis – all that blues and country and a bit of zydeco here and there. Still I didn't grow up on a god damn farm. I grew up in a suburb of Memphis with MTV and little hoodrat skater shit. So there's still a little Husker Du and Replacements thrown in there."
"The No Hit Wonder" showcases Branan's raspy vocals, wry humor and penchant for melody, but producer Paul Ebersold assembled a top notch group of studio musicians that let Branan take the songs in different directions than originally conceived. For "Taking the Highway Home" Branan originally conceived the tune to have more of a Traveling Wilburys 12 string sound, but once steel guitarist Robbie Turner, who played for Waylon Jennings, entered the studio, the song shifted in a different direction. While Branan admits that he likes to maintain control of his albums from the music to the linear notes, he learned to trust Ebersold during the sessions.
"Paul is a Memphis boy, who lives in Nashville, so I got the best of both worlds," Branan said. "I've got the Memphis spontaneity of going with musicians and doing it fast and lose—none of the tracks were more than two or three takes tops—but he pieced it together with Nashville precision."
The mix of professionalism and improvisation allowed Branan to create his most musically adventurous record to date. At times, Branan feels people want him to make stripped down acoustic records like his debut, but he believes this actually limits the songs.
"[A]ll the records have those songs but some people give more credence to a song that's stripped down like it gives it more authenticity," he said. "You don't give a rock song the same credence that you do an acoustic song for some reason. I have different musical aspirations and I want to give it things that compliment the song….I'm not a purist.  I don't play retro music.  I like the rich vocabulary of American music. I'm gonna say what I want to say with it."
Bloodshot's support has allowed Branan to cut older songs he has been performing live for years such as "Sour Mash," an ode to whiskey, which appears on the new album. Fans might also recognize the first verse of "The Only You," which features the opening lines to his live version of "Miss Ferguson."
Branan likes to include his friends on the record and has more guest appearances this side of hip-hop. Jason Isbell, Craig Finn and Steve Selvidge of the Hold Steady, Caitlin Rose, Tim Easton, and Austin Lucas all lend their talents to the tunes.
"I've had friends on every record ever made," he said. "I happen to live in Nashville and there's a whole new guard of songwriters up here. I try not to have people on the record just to have them, but to make sure I give them something they can shine on."
Now that "The No Hit Wonder" is out, Branan plans to return to the road, but this time with a different schedule—smarter and shorter tours with nothing over three weeks without a few weeks off. Now, with a wife and his new role as a father, he has plenty of reasons to take the highway home.
VISIT: CoryBranan.com