A Brief Interview with Cory Branan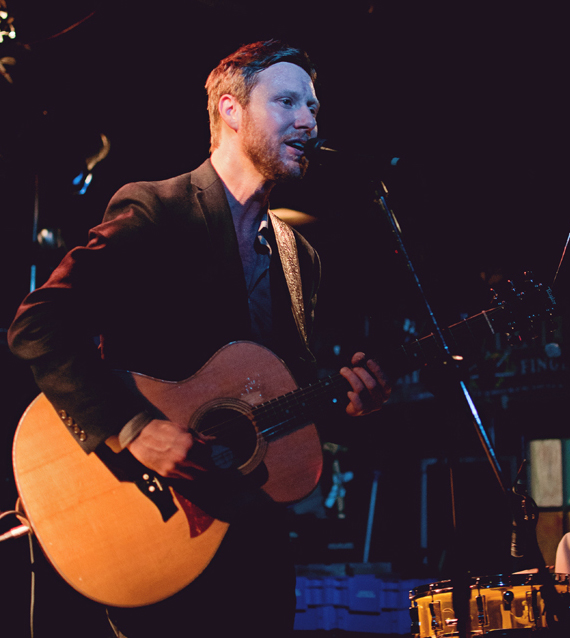 By Andrew McClain
Contributing Editor 
(Ed. Note:  Recently Cory Branan played a show at Sticky Fingerz in Little Rock. Andrew McClain caught up with him after the show. If you haven't heard Branan's new album "MUTT" (Bloodshot Records), pick it up ASAP.  Or visit his back catalogue.  You won't regret it. He's one of the best songwriters out today.–K.F.)
Cory Branan travels light. He took his pickup truck straight from Brian Venable's wedding to his Saturday night show at Stickyz. Since Branan doesn't tour with a band, he doesn't have to account for anything but his guitar and a few extra strings.
After the show, he changed out of his suit into a tshirt, and sat at the back of the room eating fries and watching Maps & Atlases. We walked out the load-in/load-out door at Stickyz and Branan let down the tailgate of his truck so we could sit down and talk for a second. It's been wedding season for Branan – his own was barely a month ago, and "Just Married" is still in car paint on the back window of his truck.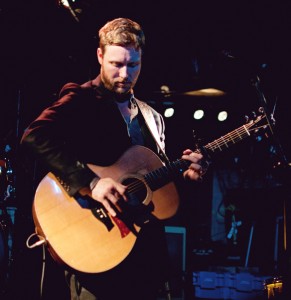 This was the fourth of five shows Branan played with Maps & Atlases this year. His admiration for them shows, whether through hyping them up during his own set, or sticking around just to see them. Branan was on a little mini-tour, hitting Oklahoma City, Oxford and Chattanooga, before heading to Wales in mid-October to embark on Chuck Ragan's five-week Revival Tour across Western Europe.
Andrew: You like playing Oxford? Are you playing Proud Larry's?
Cory: You know, I'm not sure – it's either Proud Larry's or The Blind Pig.
Andrew: I like going to shows at Proud Larry's, but it's actually not a great place for shows.
Cory: People are loud. It's a hard, loud room. But I'm from Memphis, so, y'know, I grew up in that. That's kinda where my briarpatch is – learning how to control a crowd with a guitar if you have to.
Andrew: That's kind of your forte, I noticed.
Cory: That's what I love about playing for [Maps & Atlases'] fans, because they're very polite.
Andrew: I love the album – do you have plans for another one?
Cory: Oh, absolutely. When I get back from Europe, I'm probably gonna go back [in the studio] this winter and record it. It'll probably be fall before it comes out, but I'm trying to get a record out every eighteen months from now on. None of this five-year bullshit.
Andrew: That's a good work ethic. Where do you record?
Cory: I did [Mutt] in San Francisco, I'll probably do this new one in Nashville, if I can find the right musicians – I don't want it to be sterile like some Nashville stuff is, but there's a lot of cool, funky studios on the East Side. I'm meeting a lot of people there, so I'll probably have the right guys for the job.
Andrew: Who played on your last record?
Cory: Different folks in San Francisco – the core guys on bass and guitar back up for Grandaddy and the drummer was a guy named Dave Douglas that I found out up there, and then Tim Mooney, who engineered it, actually played drums on one track. He played drums for American Music Club, and actually he just passed away a few months ago and it sucks. But he did a great job on the record, he was a genuine talent and a gentleman and it was fun to work with him. We spent a lot of time in that room. I actually slept on the couch in the studio – I didn't leave for like three weeks.
Andrew: You've got a full sound on that record, but you don't tour with a band.
Cory: I'd like to, I just can't afford to pay 'em… I've got great musicians that are friends of mine, but I can't be splitting this up five ways.
Conducting an interview in an alley presents its own challenges – confused pedestrians walked up and asked where the front entrance of Stickyz was, Branan politely offered direction. A girl walked out of the load-in/load-out door, saying "Sorry – they said I could smoke out here?" We answered affirmatively. "It looks a little sketchy," she said. "You're not gonna rape me and take all the money I don't have, right?"
We laughed and reassured her.
"The no-raping is much appreciated," she said.
"Hey, our pleasure," Cory said.
Learn more about Cory here. Or follow him on Twitter.  Listen to his song "Survivor Blues."
 (Photos by Heather Canterbury.)