A Chat with NWA Author Vivian Cummings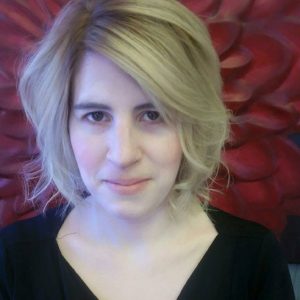 INTERVIEW / ASHTON ELEY
Author and Fayetteville native Vivian Cummings – also known as V.R. Craft and W.T. Fallon in the literary world – will speak about the inspiration behind her first two novels at 2 p.m. on Sunday, Jan. 8, 2017, at the Fayetteville Public Library as part of the Local Author Series.

Cummings first novel, Stupid Humans: A Stellar Adventure in Stupidity by V.R. Craft, is a sci-fi comedy in which all intelligent people have abandoned Earth and idiots run the show. Her political satire Fail to the Chief by W.T. Fallon was published October 2016 and follows TV personality Bryan Seafoam who can't wait to host "American President," the world's first reality show to elect a country's Chief Executive.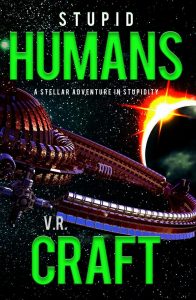 She will also be reading excerpts from her books, which will be available for sale and signing after her presentation.
Q: What inspired you to write you first book, Stupid Humans: A Stellar Adventure in Stupidity? I use to work in retail..so many more. You don't realize.
A: Well I use to work in retail where you meet many, many, many, many stupid people. One after dealing with a particularly stupid customer, who didn't think a six pack of boxes had more than one box in it, I got to thinking about how I wanted to take all the stupid people and ship them off to another planet somewhere. And then, I got to thinking since there are so many more stupid people than intelligent people in the world, it would be so much easier to just let the stupid people have Earth and have everyone else leave. That's where I came up with world for Stupid Humans.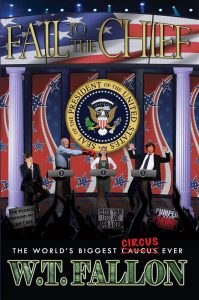 Q: Why do you write your novels under pseudonyms? Why the name W.T. Fallon for Fail to the Chief and V. R. Craft for Stupid Humans?
A: That was a marketing choose. I thought it would be difficult to market two very different books in two very different genres. Stupid Humans is targeted towards people who like to read science fiction novels. It is also a comedy and in many ways similar to Fail to the Chief, but a lot of people who don't generally like science fiction aren't willing to give it a chance.
I came up with the pseudonyms myself and that took a little while. W. T. Fallon I came up with because I really wanted the initials W.T.F. on the spine, because I just thought that was a great way to describe the election.
Q: Your books are satirical and witty, but they also seem to be more realistic and frank concerning humans flaws than just pure comedies. What are the overall messages you want readers to get from your novels?
A: Well yeah, I definitely wanted people to get the messages, but in a funny way. I feel like humor is the best way to make people think about things. Speaking of retail, there are some scenes in Fail to the Chief where the politicians are all required to work regular jobs based on either their campaign promises or previous experience. The governor who opposes minimum ways gets sent to work at a fast food restaurant. One guys says, "I have to work three jobs just to make ends meet," and the governor says, "See, I have solved the unemployment problem. This young man has not one, but three jobs!" It's funny, but it also points out how politicians miss the point and make everything about them.
That book is full of things I've always wanted to see in a presidential election: politicians having to work jobs, not just taking photos in a soup kitchen with their aids around to help them.
Q: How much did you draw upon your own experience as a journalist when writing about Bryan Seafoam and his aspirations of being a "real journalist" hosting the reality show "American President"?
A: There are parts of that book where Bryan thinks back to his past starting out at a TV station and all the problems there: it's not a lot of hard news, it's mostly really boring and you don't get paid very well. So, that was all kind of based on my own experience in journalism.
Q: I understand you began writing for the Northwest Arkansas Times at the age of nine.
A: Yes, I wrote a kids news column when I was nine. I didn't get paid for it. I did a lot of writing I didn't get paid for and that kind of turned me off for a while. I really didn't do much writing until a few years ago.
Q: What made you come back to writing?
A: I got the idea that I would write a book and make a lot of money, and that was a really stupid idea. There's not so much money in writing books either. But I also have a lot of things to say; I'm a very opinionated person and I also have a blog. So I started writing. I wrote a few manuscripts that will probably never see the light of day, and then I came up with the idea of Stupid Humans. The idea kind of formed in my head over six or seven months before I started writing it in 2012.
Q: So, you've written for dozens of newspapers and magazines, worked in local television for five years with a Bachelor's degree in Broadcast Journalism, then earned your second degree in Ad/PR, and now you're freelancing and writing novels. What drove you to explore the diversity of mediums that you have? Do you have one you enjoy or prefer over others?  
A: Honestly, what has driven me most recently is promoting my book. That's also why I started my blog
Writing a book I guess has [been the most enjoyable]. It allowed me to talk about one subject for a long time. You can write a short blog post, but writing a book is just longer and you have to put more thought into the plot and the characters. Although I don't outline. I usually have some idea in my head of where I'm going, and sometimes I don't. That's kind of the fun of it.
Q: Are you working on anything new?
A: I have some short stories that should be coming out under the V.R. Craft pseudonym coming out later this year that will be available for Kindle. If anyone wants to get a feel for my writing and try it out, there's going to be one will be called "Don't Feed the Trolls" and another one called "Not Enough Scotch in Scotland" and one called "A World Without Stories." They're all are kind of on an alien abduction theme, but that are also kind of comical.
I am also continuing to work on two more books that hopefully will be published sometime in 2018.