CALS to virtually host author of new book "The Vapors"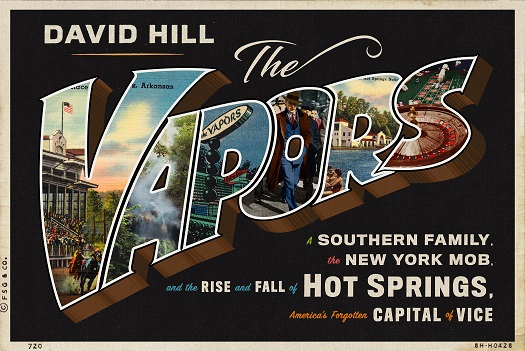 The Central Arkansas Library System (CALS) Six Bridges Book Festival will host author and native Arkansan David Hill in a virtual program about his debut book, The Vapors: A Southern Family, the New York Mob, and the Rise and Fall of Hot Springs, America's Forgotten Capital of Vice, at 6:30 p.m. July 23. Admission is free, but reservations are required at the CALS website. This event will be moderated by Rex Nelson, senior editor and columnist for the Arkansas Democrat-Gazette, and is co-sponsored by the CALS Bobby L. Roberts Library of Arkansas History & Art.
The Vapors is the extraordinary story of three individuals—spanning the golden decades of Hot Springs, from the 1930s through the 1960s—and the lavish casino whose spectacular rise and fall would bring them together before blowing them apart. In this riveting work of forgotten history, Hill plots the trajectory of everything from organized crime to America's fraught racial past, examining how a town synonymous with white gangsters supported a burgeoning black middle class. He reveals how the louche underbelly of the South was also home to veterans hospitals and baseball's spring training grounds, giving rise to everyone from Babe Ruth to President Bill Clinton.
The book has been praised as "a deeply researched work . . . full of organized crime, cons, bootleggers, and all kinds of other seedy characters you hope for in a colorful history book" (Thrillist) and a "gripping account of Hot Springs' seedy, rollicking past and its near-miss to beat out Las Vegas in becoming America's first bonafide gambling destination" (Arkansas Democrat-Gazette).
Hill is originally from Hot Springs. His work has appeared regularly in Grantland and The Ringer, and has been featured in The New Yorker, The New York Times, GQ, and New York magazine, as well as on This American Life. He lives in Nyack, New York, with his wife and three children, where he serves as the vice president of the National Writers Union.
Reserve your tickets at cals.org.