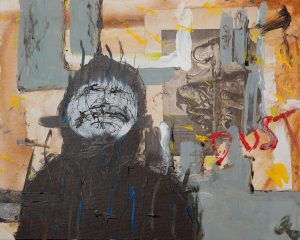 Marsha Lane Foster presents "C.F. Roberts: A Decade in the Margins" at Freedom Dreamer Photography/Lane Foster Fine Art Studio on 211 West Elm St. in Historic Downtown Rogers, AR on Friday, January 27th between 6 and 9 PM. Light refreshments will be served.
Roberts has exhibiting his paintings in Northwest Arkansas for 10 years and this is his first solo exhibition.
C.F. ROBERTS: A DECADE ON THE MARGINS

While life took him down other paths, Roberts always remained passionate about art. In his mid 40s, he was offered an opportunity to return to his first love and art became an obsession. Hundreds of paintings – big and small – followed. Roberts' concerns include neurodivergence, trauma, therapy, mythology, mysticism, eschatology, expressionism and social commentary.
His paintings have been displayed in a number of galleries and shows around the Northwest Arkansas region. He has sold work nationally and internationally. He refers to his from-the-ground-up outsider aesthetic as "Rock'N'Roll."
"Decade on the Margins" will follow several series the artist has created over the years:
LITTLE WINDOWS (2006-2010): "As I got a grip on painting I drifted away from attempts at naturalism or realism to a more backbrain approach to art. In my teens I was a big fan of comics and wanted, at one point, to draw comics professionally. I let my inner cartoonist out and took a more primal, free-associative direction. What are the windows through your perception? What do your dreams, nightmares, anxieties and desires say to you and about you? I also pursued unorthodox methods of creation in this series. Nailing paintings into one another became a big thing for me at this time."
PURGATORY (2010-2013): "With the Purgatory Series, I started going for different motifs. Elements of collage became very important, and I began laying old book illustrations and pieces of road maps into my paintings. The idea was to create a kind of postmodern 'Book of the Dead'. If civilization died tomorrow, how would we rebuild culture in a way that would tell future generations what we were and where we went? How could we take remnants of our old world and restructure them in a way that (hopefully) made sense? How would we retell the old stories and remake the old myths?"
THE APOCALYPSE (2013-2016): "This series coincided with the rebirth of my old band, the S.E. Apocalypse Krew, and the eventual recording of our album. The direction of my art and the re-ignition of our old music dovetailed into one another. As the Apocalypse Krew we developed our own lexicon, our own graffiti, our own cartoon style, our own assessment of a world gone mad and our own sense of identity in the whole mess. The Apocalypse is as "Rock'N'Roll" as it gets—-it's raw and real, a look at lives of people who see no way out, an amalgam of disenfranchised voices that might make the viewer uncomfortable. 'The Apocalypse' is an attempt to reharness the ideas and the person I was in the mid 80s to the early 90s—it was in some respects the worst and most tumultuous time in my life. Others might be living similar lives right now—and that should, by no means, leave you feeling good."
HOT GARBAGE (2016-):  "With the Hot Garbage series I'm abandoning allegory, mythology and politics and the series is just a pure exploration of the figurative for its own sake. I'm taking the Gesture Art of the mid 20th Century and putting it though my own crazy, postmodern rock'n'roll outsider lens."