Boswell Mourot Fine Art hosting works by Anais Dasse'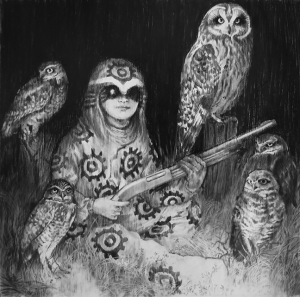 Anais Dasse's powerful mixed media works Kids Are Terrible People Too and The Daughter were among the highlights of this year's Delta Exhibition at the Arkansas Arts Center.
The artist, a native of Bayonne, France, now living in Arkansas, has a much-anticipated solo exhibition at Boswell Mourot Fine Art. And it does not disappoint.
Dasse's works — which can include gesso, charcoal, pencil, collage and oil on paper — are unsettling, but compelling pieces that embrace tribal-inspired patterns and symbols, references to the South's religion and culture, American pop culture, literary allusions and more. It's a sort of Lord of the Flies, somewhat primal/fever dream vision that works because of her skillful technique and an unfolding, thoughtful narrative that links these works.
The children and young adults she depicts live as feral creatures in nature. Often they have a sort of deer-in-the-headlights gaze as Dasse uses light to illuminate this hidden culture and its activities. Her work can be seen from a number of perspectives as Dasse walks the line that borders reality, imagination, the dreamtime, the natural world and points in between. Because some hold guns, one can't help but think of this region's gun culture, the child soldiers of war and children displaced and damaged by conflict.
Among the standouts are The Wedding, a 46-by-46-inch work of two young ones holding hands; the female has a pistol, pointing toward the ground. They are surrounded by herons and stunningly illuminated by vivid white light. In The Watcher, a girl, surrounded by owls, holds a rifle. The owls, like the other creatures in these works, are unafraid. Clearly, a bonding exists. One that most in our culture have lost.
The artist, who has also been a scientific illustrator, has created an imagined world that mesmerizes as it challenges the viewer on artistic, spiritual and intellectual levels.
New works by Anais Dasse, through Oct. 1, Boswell Mourot Fine Art, 5815 Kavanaugh Blvd., Little Rock. Hours: 11 a.m.-6 p.m. Tuesday-Friday, 11 a.m.-3 p.m. Saturday and by appointment. Info: (501) 664-0030.