The Arts & Science Center for Southeast Arkansas invites public to botanical art exhibitions
Botanicals and other natural specimens are featured in the next exhibitions at the The Arts & Science Center for Southeast Arkansas (ASC), featuring work by Ian Campbell and Marjorie Williams-Smith.
"Refugia: Photos by Ian Campbell and "Metalpoint: A Classic Artform, by Marjorie Williams-Smith" open with a joint public reception 5-7 p.m. Thursday, Nov. 21. The exhibitions are sponsored by the Kline Family Foundation.
The works in the exhibitions are of flora — however, the images are captured with very different mediums.
Campbell uses organic materials and photographic developing processes to create semi-abstract images reminiscent of early photography in his exhibition "Refugia," according to a press release.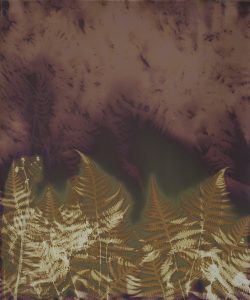 The lumen prints and photograms which make up the exhibition are camera-less photographic prints made by placing objects (such plants, insects and fungi) on silver-gelatin photo paper and exposing them to sunlight, and, in some cases, toning them with chemicals. "The results are painterly, semi-abstract images that emphasize the physicality of the photograph," Campbell said in a press release.
He created the prints during his artist residency at the University of Notre Dame Environmental Research Center in the remote woods of Michigan's Upper Peninsula in June 2018.
"Ian Campbell's prints give viewers the opportunity to take a closer look at the flora that surrounds us and recognize their importance in our daily lives and struggle for survival," ASC Assistant Curator Chaney Jewell said.
"Refugia" will be on display through Saturday, Feb. 1, 2020.
"Metalpoint" — which, at first glance, may resemble marks made by graphite pencil — uses a stylus that holds fine pieces of metal such as copper or silver. Williams-Smith captures classic forms of nature in the shimmer of the medium using fine, precise lines.
"The flowers and plants that I draw hold a message for me and hopefully for the viewer," Williams-Smith said. "Nature possesses a spiritual energy that speaks of hope, strength, faith, and endurance."
Williams-Smith has been working with metalpoint since 1986 and is nationally known for her drawings of flowers and other botanicals. Her exhibition includes earlier work to pieces created this year.
"We are honored to host this exhibition of Marjorie Williams-Smith's exquisite metalpoint artworks. Her artistry, distinguished career, and renown as an art educator provide inspiration for artist and audience," said Lenore Shoults, ASC curator.
"Metalpoint: A Classic Artform" will be on display through Saturday, Feb. 8, 2020.