Artistic typography exhibit on display at University of Central Arkansas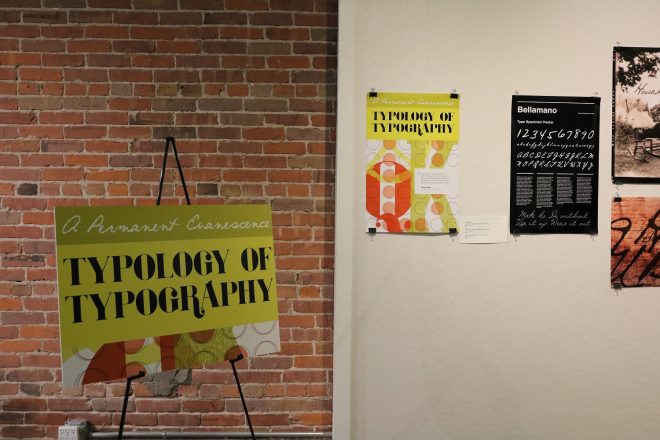 WORDS + PHOTOS // CAROLINE BIVENS
A glance at artist Peter Bella's new exhibit Typology of Typography: A Permanent Evanescence on display in UCA Downtown in Conway shows that basic letter forms can be an interesting art form.
Bella's art explores different types of letter forms and how he sees typography as a form of artistic expression. Bella said he wants to show how letters have changed over time and how he can provide spatial depth to the letters.
Bella, a professional graphic designer and assistant professor of art at the University of Central Arkansas, said art has always been a part of his life.
Bella said the typology part of the exhibit is a general overview of what typography is. He said everyone is exposed to letter forms everyday, but that no one takes the time to study what a letter form actually is.
"Letter forms … have gone through many different stages, and I think we're in another one of those transformative states where we're in a permanent evanescent with the invention of the computer and digital type," Bella said. "What once was, as far as letter forms, isn't anymore and it's always progressing."
Some of his pieces are centered around his grandfather's handwriting. Bella said his grandfather was a photographer, and kept handwritten notes of his photography in journals for years.
"The elegance of his handwriting is something that I think we've lost," he said.
Bella said it was interesting to see how his grandfather's penmanship changed with 
age, and how it plays into the idea of a permanent evanescence. 
In some of his work, Bella created new fonts named after himself and explored their typology in detail.
His work is both 2D and 3D, with written and sculpted letters. His piece "Bellasione Artistic Expression" is composed of red and blue circles, that when viewed with the provided 3D glasses, reveals a hidden pattern invisible to the naked eye. This gives letters the depth that Bella is searching for.
"The thought here to explore the idea of  'where is it heading, what's the next thing for typography'," Bella said.
Bella said he's always had a fascination with letters as a form of artistic expression.
"It's all around us everyday, and people see letters everyday, but none one really stops to experience the form and what it's doing," Bella said. "So to me it's an invisible art."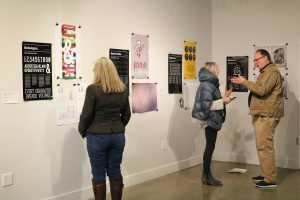 Bella said he tells his students that he will change the way that they perceive letters, and that it's important to experience typography.
Director of Marketing for Outreach and Community Engagement Kristy Carter said UCA wants to build more of an art culture and art exposure in Conway.
She said Bella wanted to emphasis typography, and his interest in the art allowed him to exhibit it in downtown Conway.
"The fact that he found a way to tie in his love for his family and he dimensionality of [his work] gives something unique that hasn't been in this space before," Carter said.
Bella said viewers find his work interesting, and that many people don't view letters as art. He said he wants the viewer to take away their own individual experiences from his art.
"It's all about my experiences and then letting others find their own experiences within it," Bella said.
The exhibit will be on display until the end of January.