Artist Matthew Fields Explores Labor, Black Experience in Exhibition "Self Awareness"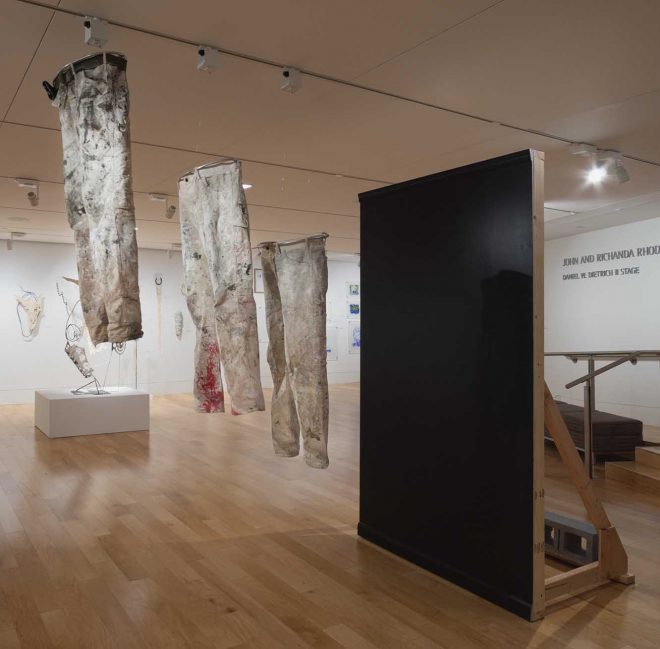 Artist and educator Matthew Fields explores labor and the Black experience in his first solo exhibition, opening soon at The Arts & Science Center for Southeast Arkansas (ASC). "Self-Awareness: An Introduction to Labor," opens Thursday, March 2, 2023, with a free public reception from 5-7 p.m.
The exhibition is sponsored by Relyance Bank. The reception is sponsored by ASC volunteer group Art Krewe and MK Distributors.
Fields is an assistant professor of art at the University of Arkansas at Pine Bluff (UAPB). He earned his Master of Fine Arts degree from the Pennsylvania Academy of the Fine Arts in 2021, and his Bachelor of Science Degree in visual arts from UAPB in 2019.
In 2020, between his time in Pine Bluff, he returned to his hometown of St. Louis where he worked as an interior and exterior painter while finishing up his graduate studies. His experience as a laborer influenced his artwork, as seen in pieces such as "Elevation," which features three pairs of painter's pants suspended overhead.
"In 'Self-Awareness: An Introduction to Labor,' artist Matthew Fields uses the materials and assemblages in his work to reconfigure the environment they are placed in, to both attempt to wrestle the workings of his own identity, but also the construct of the society that has been erected around him," explained Kevin Haynie, ASC's curator of collections and exhibitions.
"He wisely reckons that in order to effectively change the ambient issues that affect him he must first come to understand who he is within them."
Fields said that he didn't create this work as a means of solving the problem or suggesting that he has a solution. "I understood that in order to contribute to a much larger and more complex conversation, I would need to first look inward to seek out a deeper comprehension of my own existence and experience," Fields explained in his artist statement. "The work became a visual representation of my own individual experience that happens to parallel the experience of my community and culture throughout history. I could go into a long ballad about the mistreatments of my people and how it still continues in new forms to this day."
He continued, "However, this work is about understanding the position we are left in because of those negative forces; seemingly endless laboring towards survival that seldom provides incremental growth, only to be met by a blatantly adverse society: a society that throws rocks and hides its hands, or willfully ignores the existence of such adversities. It is important for any Black person to realize their position in a country with intrinsic values that never included the best interest of Black people. In my opinion, it is equally important for any non-Black person to see our position, see the adversity we face, and place themselves in between the two for a deeper understanding of how laborious it can be just to embrace this reality.
"On either side of the line, one has to have the conversation, that this is indeed the reality we live in, and not many of us get to be the exception."
"Self-Awareness" will be on view in the William H. Kennedy Jr. Gallery through May 6, 2023.
For more information about Fields and to view more of his work, visit his website unartistikcreations.myportfolio.com.
About ASC
The Arts & Science Center for Southeast Arkansas (ASC), 701 S. Main St. in Pine Bluff, is accredited by the American Alliance of Museums. ASC presents programming in the visual arts, performing arts, and the sciences through exhibits, performances, classes and local partnerships. Gallery admission is free. ASC is open 10 a.m. to 5 p.m. Tuesday–Friday, and 10 a.m. to 4 p.m. Saturday. In 2021, ASC opened two additional facilities as part of its "ARTx3" campus — The ARTSpace on Main and ART WORKS on Main, at 623 and 627 S. Main St. For more information, visit asc701.org or call 870-536-3375.
Support for ASC is provided in part by the ASC Endowment Fund, the City of Pine Bluff, the Pine Bluff Advertising & Promotion Commission and the Arkansas Arts Council, an agency of the Division of Arkansas Heritage and the National Endowment for the Arts. Additional operating support is provided in part by the Windgate Foundation, Ben J. Altheimer Foundation, Kline Family Foundation, Relyance Bank and Simmons Bank.
Feature Image:  "Elevation," shown when it was on display in 2021 at the Pennsylvania Academy of the Fine Arts in Philadelphia, is among the artworks featured in an exhibition by Pine Bluff artist Matthew Fields. "Self-Awareness: An Introduction to Labor" opens Thursday, March 2, 2023, at The Arts & Science Center for Southeast Arkansas in Pine Bluff.