Arkansas Cinema Society + other orgs set to host "Story of Plastic" virtual screening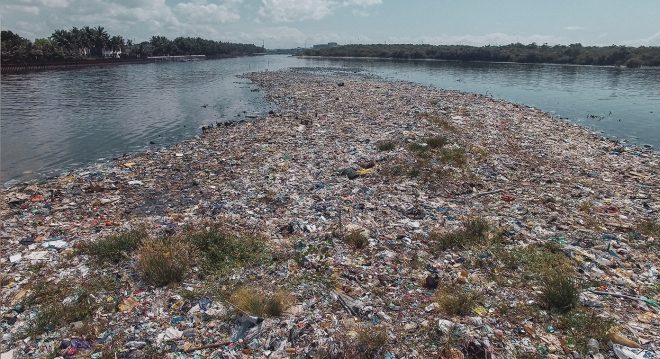 Arkansas Cinema Society is teaming up with Just Communities of Arkansas, Arkansas Peace and Justice Memorial Movement and Washitaw Foothills Youth Media Arts & Literacy Collective for a virtual screening of The Story of Plastic, a comprehensive look at the plastic crisis facing the world currently. The film will screen virtually on March 21st at 6 p.m. followed by a Q+A with director Deia Schlosberg and Dr. Marty Matlock, Executive Director of the University of Arkansas Resiliency Center and Professor of Ecological Engineering in the Biological and Agricultural Engineering Department. The screening will occur on Sunday, March 21st at 6 p.m. CST. Click here to register.
The Story of Plastic is a searing exposè, uncovering the ugly truth behind plastic pollution and the false solution of plastic recycling. Different from every other plastic documentary you've seen, The Story of Plastic presents a cohesive timeline of how we got to our current global plastic pollution crisis and how the oil and gas industry has successfully manipulated the narrative around it. From the extraction of fossil fuels and plastic disposal to the global resistance fighting back, The Story of Plastic  is a life changing film depicting one of the world's most pressing environmental issues.
"As represented by our new Science on Screen Film Series, we love science here at ACS – and even more, we love movies about science!" says Kathryn Tucker, ACS Executive Director. "The Story of Plastic takes on a critical issue in our time and so eloquently expresses the need for change. ACS loves teaming up with Just Communities to raise the awareness of underrepresented films in order to start important conversations in our communities."
Just Communities Executive Director Donald Wood believes collaboration between organizations like Just Communities and ACS is necessary to increase awareness and activism for important issues such as plastic pollution.
"We can't truly protect the environment unless we tackle social justice issues, too," he says. "Historically, low income and communities of color have been on the receiving end of pollution, toxic waste, and other environmental problems at rates much higher than middle-class white Americans. This has been done mainly by design. So then we must by design and with an inclusive, equitable lens reimagine and recreate systems that simultaneously care for our planet as well as all of its inhabitants. Partnerships like this between ACS, JCA, and WFYMALC—using powerful tools like The Story of Plastic—is one way we can do this type of systemic change work."
About Dr. Marty Matlock
Dr. Marty Matlock is Executive Director of the University of Arkansas Resiliency Center and Professor of Ecological Engineering in the Biological and Agricultural Engineering Department.  He received his Ph.D. in Biosystems Engineering from Oklahoma State University, is a registered professional engineer, a Board Certified Environmental Engineer, and a Certified Ecosystem Designer. Dr. Matlock has co-authored four books and more than 100 peer-reviewed manuscripts and reports. Dr. Matlock's research focuses on technologies and processes to increase the resilience of ecosystem services in human-dominated ecosystems. Dr. Matlock is the recipient of the 2018 CAST-Borlaug Agriculture Communications Award, serves on the USEPA Science Advisory Committee for Agriculture, previously served on the US Secretary of Agriculture's Committee for the 21st Century, is Chairman of the Cherokee Nation Environmental Protection Commission, and serves as sustainability science advisor for three environmental conservation organizations and more than a dozen food and agricultural product companies.
About the Arkansas Cinema Society
ACS is a non-profit committed to building a film community in Arkansas where film lovers can watch films, share ideas, connect with each other, and nurture the new and existing film talent within our state through increased exposure to filmmakers and their art. Those interested in supporting ACS can visit their website at www.arkansascinemasociety.org. Memberships are available to purchase for $50 for anyone that loves films or wants to make more of them. With the membership you are not only supporting the mission of the non-profit, but you'll receive access to educational videos, early access to ticket sales, access to members-only events, movie swag, and more.
About Just Communities of Arkansas
Just Communities of Arkansas (JCA) builds communities where every person is valued, every voice is heard, and everyone has a fair chance to succeed. They provide the groundwork for transformative shifts in thought; enhancing the work of government agencies, academia, media, businesses, community advocates, philanthropists, and congregations. They train youth and adults to include and understand one another in order to breed positive change on individual, institutional, and ultimately systemic levels.
About Arkansas Peace and Justice Memorial Movement
APJMM is a statewide collaborative effort to acknowledge, and to learn from, our shared documented history of hundreds of incidents of extra-legal racial, political and religious violence and injustices, with the goal of creating meaningful avenues for transformative peace and restorative justice through truth-seeking and reconciliation.
About Washitaw Foothills Youth Media Arts & Literacy Collective
WFYMALC is a multimedia, arts and literacy-based collective. We capture oral history and social determinants through interviews, photography, video, and various mediums of art, with a focus on youth development. Our mission is to tell the stories of our often forgotten history, making visible the hidden social determinants in our communities. Instead of trying to "give our youth a voice," we work with them to provide the resources and tools necessary to harness, and then express, the innate power within their own voices.