Alexander C-Wil reigns almighty with new EP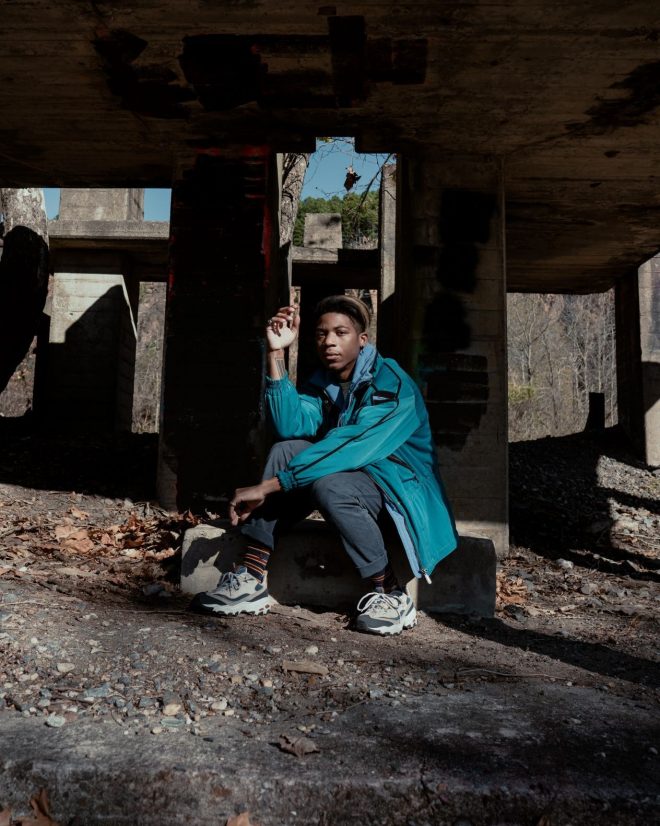 PHOTOS / DANIEL NANSEL
Christopher Wilson's musical upbringing is wholly Arkansan. Wilson, 21, who creates music under the moniker, Alexander C-Wil, grew up playing in Maumelle church bands and came of age in the Vile Pack house, the stomping ground of a host of Central Arkansas's up-and-coming rappers. Pre-pandemic, C-Wil was a Vino's staple act, and during the pandemic, the party trap artist has become a studio shut-in, opening his in-home recording studio to local artists.
His latest release, the three-song EP, Almighty A!, is short, sweet and sure to get you hyped for the return of live shows. On it, he ventures from his typically abrasive vein of trap with more atmospheric, headphone-primed songs designed to soundtrack scenic drives and kickbacks with (vaccinated) friends. Though he admits to "hoarding" unreleased music, C-Wil immediately knew the EP was something special that demanded to be shared.
You're constantly writing and recording and have a backlog of unreleased material. What about the energy of these songs made you feel that they needed to be out in the world ASAP?
I feel like it was the way they made me feel when I heard them. With some songs that I make, I'll listen to them as an engineer because that's how I see songs sometimes. But with most songs that I really enjoy, I don't think anything about the engineering of it. I just feel the music. These were songs where I wasn't stressing over the mix, I wasn't doing 45 mixes per track … I noticed how many times I would play these songs over and over again and how they got stuck in my head. I was even dreaming about these songs, so I definitely knew these songs were going to take precedence over any other material.
Your recent album, 2020's I Paid the Fisher Price, is more abrasive, heavy-hitting, and moshpit-ready, whereas this EP is synth-driven and atmospheric. What inspired the change of pace?
I feel like I've curated that more atmospheric vibe now because when all you have to do is sit at the house and make music, you end up wanting that escapism. I drive around a lot. If I'm not in the studio, I'm probably driving. I have a lot of friends without cars, and I have errands upon errands. I love going on my phone and putting my [music] library on shuffle and just feeling like I'm going through a journey, just floating through my playlists. Not having those hard stops or abrasiveness [in my playlists], like what I've typically done before, lets these songs with different production styles bleed together. With a lot of my previous material, you have to set out to put yourself in that mood for listening. You have to know what you're getting into. I wanted to make something that could come on after your favorite song in the world and seem natural. It will bleed and flow into other music, you'll vibe a little bit, and it'll be gone before you know it. Then you'll ask yourself, "Oh sh–, what was that song?" That's the general response you want as an artist, and I want it to catch people's attention on their playlists.
The EP consists of two tracks produced by Klubhouse's g!, "Everytime" and "Almighty A!," and the closer, "Lightshow," which is based on a beat AC The Producer sent you. If you had to pick a favorite from these three, which is it and why?
I gotta give it to "Lightshow" because it has all the essential elements. It has a little bit of "Almighty A!" in that it has that straightforward, direct conversation between me and the audience. "Almighty A!" is a song where I'm telling you something; I'm describing the world how I see it. "Everytime" feels more mystical; it's more in the wind. That's a song that's about just being a song. It's something to sing to, to listen to, to turn up with. "Lightshow" capitalizes on both of those elements and meets you right in the middle with something you can listen to and lyrics you could tweet. It's my overall favorite. It's also the first of the three tracks I made, so maybe it's my favorite because I got to spend more time with it.
There are producers I work with every day, but I feel like I turn to that third-party production [beat] packs when I'm coming out of a slump and I really want to prove to myself that I can make a song a good song. When AC sent me the "Lightshow" beat, I had been going through a writer's block for a couple of weeks. Coming out of a funk is prime time for music.
A running theme in trap music and hip-hop writ large has always been flexing and hyping yourself up, which can be really uplifting for rappers who are coming into the game as underdogs. In your music, what do you see as the appeal of gassing yourself up?
I drive a nice car, but not a flashy car, right? It's a 2021 Volkswagen Tiguan SEL. It's fully souped up, and it's a nice car, but when you see it, it's not a flashy car. I live in a nice neighborhood. I live in the Heights in Little Rock, but when you see my place from outside, it's modest. I feel like I'm very modest in everything I do. I don't blow money as much as other rappers do. I spend money, but I don't blow it. The only time I get to flex a little, turn up a little, to say, "I have this and you don't" or "I can do this and you can't" is on the songs. If I say those things and act that way in real life, there's repercussions. There's people that want to take or there's people who are envious or jealous. There's all these things you have to worry about with doing that in real life that you don't have to worry about in music. And that's probably the reason anyone who creates anything creates. It's escapism. I get to escape the reality and I get to put on this persona and tell you this story in my words and in the way I want you to hear it. I make you feel the way that I want you to feel. Music is the one place where you can be what you want to be.
I would love to drive a supercar and zoom down the freeway and get speeding tickets all the time, but I can't afford to get speeding tickets all the time and drive a supercar and get pulled over every day. That's not realistic … To be an artist you have to love yourself a lot, and sometimes you really have to push that on other people. You'd rather hear me talk about flexing and having money and women than have me talk about how my pipes blew up when it snowed and I had to get all the pipes under my house redone.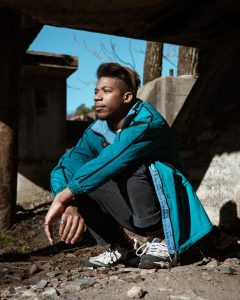 What has been some music, from local and out-of-state artists, that has turned your head as of late?
I've been listening to a lot of artists that are emerging on Soundcloud, like SoFaygo. He's breaking into the mainstream. I just started telling my friends to listen to him because he's about to blow up, and now he's been added to Spotify editorial playlists and one of the Kardashians posted a video with his song playing. Watching him blow up is keeping me super inspired. I'm understanding that things aren't as far out of my reach as I may sometimes feel.
As far as other Soundcloud artists, I've been listening to BIGBABYGUCCI and Destroylonely. I'm always listening to local music. I listen to MvK Lxui$ 24/7. He's such a great artist. He also just started working with this kid, Cash, whose mixtape just came out. He's super fire. He's killing it. Kyle Hippy, too. He's out of Memphis, not Arkansas, and he recently signed a record deal, I believe. I've been listening to him a lot and watching his journey as he comes up. I pay close attention to artists who I feel like are a little bit above where I'm at, where it's close enough for me to strive to but it's not far enough for you to say I'm dreaming it up. I look to people from my area, from my zone, who are constantly applying pressure, constantly stepping on necks.
I'm, of course, always watching Solo Jaxon and GOON DES GARCONS*. I gotta see what those guys are on. They just dropped the song, "Gutter," with Tan The Terrible. I try to keep up with anybody that's trying their best, giving it their all, and really making it happen. I'm a fan of the come-up stories. I love an underdog, someone who fights tooth and nail for success.
Earlier in this interview you mentioned recording a couple songs just today. How do you maintain a prolific output? How has your creativity been affected by the pandemic?
A lot of times I find myself clinging to the things that I know are real, clinging to things that I know that I have. I don't wander as much. I feel like wandering and idle time is the worst. That's when you're going to overthink and get down on yourself and get into one of those funks. I like to keep myself busy … I like to do other things besides music to blow off steam. I try to spend as much time as I can with my friends, and it's really good to set events to look forward to … I still go through funks all the time, but you have to set yourself up for success. You need to know what you need to do to get in the mindset to get things done. I tell myself I need to get a haircut because that will make me feel good, and I can listen to some beats while I'm at the barbershop or on the way there and the way back. I'll feel good after my haircut, so maybe I'll write a song. Engaging with fans is the number one way to stay sane during the pandemic, especially in music. I'll put a song on my Instagram story that I'm iffy about, and people will swipe up and be like, "Man, this is fire. Yeah, we need this." Then, I'm like, "Damn, now I gotta go back and mix it. I was gonna throw it away!" You gotta have a support system, and if you don't have a lot of friends by choice or maybe not by choice, you can still engage with people on the internet because everybody is looking to engage with other people right now. That's what humanity needs right now: interaction.
We're starting to see the light at the end of the tunnel with the U.S.'s vaccine rollout. Whenever shows resume as normal, what are the songs you're the most excited to perform?
Initially, I think "Alexander C-Wil," the song that gave me the name I have today. Still to this point, I can't do a show without performing that song. I feel like after so much time apart, I think everybody is gonna enjoy what that feels like. It feels like 2019, especially if you're at Vino's drinking beer and eating pizza.
The songs that perform the best aren't always the songs that do the best live. It's about understanding your audience and what part of your audience listens to particular songs. I have some fans that only want the aggressive tracks, I have others that want more vibey songs. For other fans, I have maybe only two or three songs in the style that they like.
I'm excited to see how these new tracks perform in a live setting, if they generate the vibe I intended or if it's time to go back to the drawing board.
Do you see yourself as a bit of an underdog sometimes?
I definitely feel that underdog mentality. I feel underrated all the time, but I know hard work and dedication will get me through it. I focus on promotion, on meeting as many new faces in the years I have as I can. You just gotta let the music do the work.
The main thing about growing is putting a lot of time and effort into promotion. Promotion costs money. So I've had to focus a lot on the business side of the studio, so I can earn that money that I can then recycle into the music. I'm definitely dropping music all 2021. Almighty A! is a reintroduction. I've been on a hiatus, but I've been working hard behind the scenes. It's foot on the gas from here on.
You can stream Almighty A! on all major platforms now, and follow Alexander C-Wil on Instagram to keep up with latest from him.