90's rockers The Posies set to play Capitol View Studio in Little Rock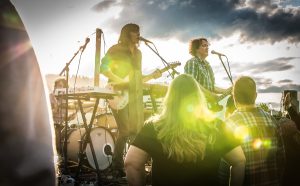 Newly opened Capitol View Studio will host legendary '90s rock 'n' roll band The Posies as part of the band's "pop-up show" tour on Sept. 29.  This event will also serve as a "soft opening" for the studio, which will host its grand opening later in the fall.
"We are thrilled to be a part of The Posies' tour as we establish our place in the Little Rock music and art scene. We have a lot in store for our community that we are also excited to announce very soon." said Bryan Frazier, studio founder.
Similar to their spring U.S. tour, this month The Posies will kick off a series of 'pop-up shows' in non-traditional venues across the country. Rather than visiting the usual clubs or bars, the band will play mostly alternative venues.
As part of the tour, the Seattle-rooted band will be promoting their eighth album, Solid States. Tickets are extremely limited for this full band show with new drummer Frankie Siragusa. Along with a special guest—Little Rock's own Sarah Stricklin of local rock band Bad Match—this will be a magical event not to be missed.
About The Posies
Rock 'n' roll has rarely been as smart, soulful or satisfying as in the hands of The Posies. During an on/off career that's stretched across four decades, led by musical sages Jon Auer and Ken Stringfellow, the band has shaped and re-shaped their sound, creating one of the more compelling catalogues in modern pop.
Their latest release, Solid States, marks dramatic changes in the lives, the music and the evolution of the band. When The Posies' long time drummer, Darius Minwalla, died unexpectedly last year, founding members Jon Auer and Ken Stringfellow were devastated. Hard as it was to continue without such a close friend and great musician, the moment called for a reinvention. The band's usual method of getting into a room and banging out the music, garage band style, was over. Instead, the ideas coming from Jon and Ken were fragile, the moods contemplative on themes such as death, divorce and loss, all while hanging onto the fleeting joys of life.
Despite this thematic change, the Posies still retain their legendary melodic abilities, their trademark vocal harmonies and their lyrical agility as they continue to explore and grow. The multi­year gaps between albums are typically spent in countless other projects that bring new skills, sounds, experiences and people to the picture.
During the pop-up tour, the band will present the album live in a new format, incorporating laptop elements along with guitars, keyboards and drums, highlighting the signature risk-taking and exploration The Posies are known for.
Check out 'Squirrel vs. Snake' a song from the upcoming album SOLID STATES:
http://www.mymusicempire.com/#/the posies.net
ABOUT CAPITOL VIEW STUDIO
Capitol View Studio LLC is a multi-purpose creative space focusing on a full-scale professional recording studio, performance venue and art space. Founder and proprietor Bryan Frazier is an award-winning singer/songwriter and video producer with a background in art education and music production. Among his most recent accolades, he had two original works selected for the 58th annual Delta Exhibition at the Arkansas Arts Center in 2016.
Bryan is also the founder of Arkansas Music and Arts Foundation, a 501(c)3 non-profit organization that partners with Capitol View Studio on many events and philanthropic ventures but serves independently from the studio in daily operations. AMA Foundation is housed at Capitol View Studio for general board meetings and events.
Engineer and producer Mark Colbert is the primary audio engineer for Capitol View Studio. Mark is an experienced producer, engineer and professional studio session drummer. He also serves as the sound engineer at The Rev Room in Little Rock, AR. Mark has spent many years working in professional studios in Los Angeles and has performed and recorded with Grammy-award winning artists such as Kelly Clarkson and Alanis Morissette, among many others.
For more information on the studio or the foundation, visit www.capitolviewstudio.com.