2020 Fayetteville Film Fest expands programming and grant initiatives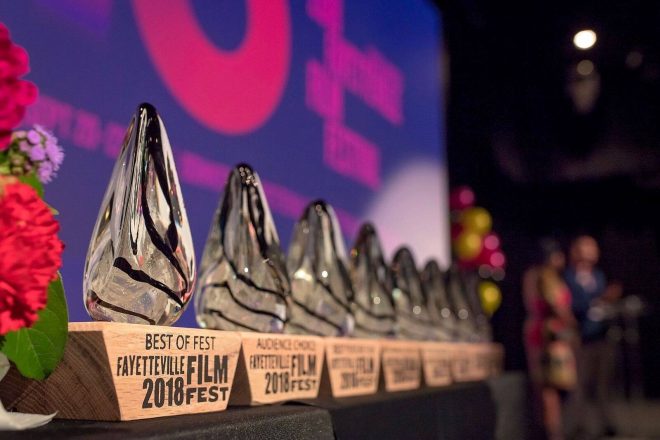 Though there won't be a live audience at the 12th annual Fayetteville Film Fest, its online functionality has allowed the festival to expand its reach and programming like never before.
"I still lament that we won't have a live audience sharing that experience," says Russell Sharman, the festival's executive director. "But the silver lining is that now it's open to a much wider audience than just the local community."
The festival will be held at an online screening room Nov. 5 to 14, available to anyone who has registered for admission and has a working internet connection. Admission operates on a pay-what-you-can basis. Admission payments help fund the festival's activities and grant initiatives, and the first 50 festival-goers to purchase $40 all-access passes will receive film fest "swag bags."
To replicate the dynamic of an in-person festival, films will screen on a staggered schedule and will be available to stream up to a week after their initial screening. Pre-recorded Q&A sessions with filmmakers will play automatically after the films.
Whereas festival lineups of years past slated six to eight feature-length films, the 2020 festival boasts an unprecedented amount of feature-length narrative and documentary films.
"In some ways, we're getting to do more than we normally get to do," Sharman says. "We have 11 feature films—more than we've ever had before because we don't have to worry about overlapping schedules, and we have more panel discussions than we've ever had before."
Four panels aimed at developing connections among the Arkansas film community will be livestreamed Nov. 5-8. The NWA Industry Roundtable will feature representatives from prominent NWA media organizations, a Crew Call talk will focus on the efforts of the state's film professionals, and the Arkansas Film School panel will address the importance of film programs in higher education.
Rounding out the panels, a conversation on building a diverse film community in Arkansas will stream Nov. 6. During this panel, the Fayetteville Film Fest's new grant initiative for local BIPOC filmmakers will be officially announced. The grant will consist of two cycles of funding of up to $4,000 a year.
The grant for BIPOC filmmakers accompanies the film fest's third annual Fayetteville Film Prize, a competition in which participants give a five-minute pitch of a prospective short film to a panel of industry professionals in the hopes of winning a $2,000 cash prize and having their film screened at next year's festival. The pitch contest is still currently accepting applicants, who must be residents of Washington, Benton, Madison, and Carroll counties.
Although it provides Arkansas audiences with filmmaking talent from across the nation, the Fayetteville Film Fest remains dedicated to enriching Arkansas's film community, as evidenced by its grant initiatives and regard for films that are locally directed and produced. Sherman believes these efforts will help develop a vibrant film community within the state.
"The more we can create a community of craftspeople and artists and technicians in the state, the less often we have to go outside of the state to scratch that itch, to provide that content," Sharman says. "You don't have to bring in those gaffers and grips and assistant directors from LA because you can employ folks right here who are at the top of their game."
A full schedule of this year's films can be found at the festival's website. From the misadventures of a 1980s Christian hair metal band (Electric Jesus)to the true story of a Mexican-American dancer battling breast cancer (Foreign Puzzle), there's sure to be something for everyone.