REVIEW: Vampire Weekend at the AMP – 9.25.13
WORDS & PHOTOS / ANDREW MCCLAIN

Vampire Weekend has a goofy name. They gained their first bit of public recognition for playful, catchy songs about collegiate life and grammar rules. Moms and teenage girls like them. And I think they're the only relevant four-piece rock band making music in 2013.
Although Vampire Weekend's music doesn't exactly scan as "rock," their setup is built in the rock tradition. People have been declaring "rock n' roll is dead" since the '70s, but now that the festival circuit is gravitating towards the massive sounds of dubstep or anthemic folk music and all the metal kids have sequestered themselves, it seems that rock n' roll actually isn't connecting with the youth. So maybe your dad's right about rock being dead. It might be dead because we backed it into a corner. Hip-hop has thrived in popularity for almost 30 years because it accommodates change very well, whereas (as much as I love The White Stripes) rock has a tendency to regress to older sounds in a kind of contrarian manner.
One of Vampire Weekend's defining features has been their consistent acknowledgment of hip-hop and electronic music as the dominant trends in pop music, incorporating lyrical nods to Lil Jon and Run DMC, and sonic nods to African popular music and reggaeton, and occasionally borrowing the hip-hop trend of artificially pitching vocals up and down within their impeccably-arranged baroque pop.
With Modern Vampires of the City, (a name taken from reggae singer Junior Reid's song "One Blood") lead singer and songwriter Ezra Koenig's lyricism has evolved into a very thoughtful statement on youth, aging and generational differences, as well as poignant songs dealing with Biblical themes of judgment and grace. I'll direct the reader to an excellent column by Lindsay Zoladz about the album and how, after storms of condescending, alarmist thinkpieces about "Millennials" (as someone elected to call those of us born after 1982) this album might be the first thing she (and I) feel comfortable pointing to and describing as distinctly "Millennial," and Koenig feels the same way. For instance, Millennials have been noted for an alleged love of irony, but while Vampire Weekend's playful, referential style might read as "ironic" to some, a closer listen will reveal that there's nothing insincere about it.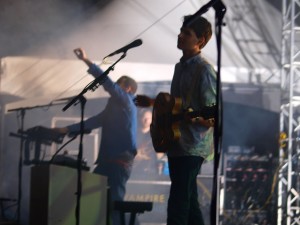 Look at the lyric video for "Step," which contains elements from "Step to My Girl," (a track by Bay Area underground rap collective Souls of Mischief) and several lines pertaining to generational tension ("ancestors told me that their girl was better").
Vampire Weekend played the Fayetteville AMP on Wednesday night. Opener Sky Ferreira went on first, played a short set (maybe seven or eight songs) and Vampire Weekend took the stage. The band is touring in support of Modern Vampires of the City, which came out earlier this year, and the band's Fayetteville gig was part of a week-long leg of the tour that also includes Brooklyn's Barclays Center and Los Angeles' Hollywood Bowl.
Part of the touring setup was an elaborate setpiece, which featured a massive floral print backdrop with Roman columns suspended in front of it and a large ornamental mirror that bubbled outwards to reflect the back of the drum kit and, at several points in the show, displayed projected images along with the lightshow.
Vampire Weekend's self-titled debut was self-produced on a budget, so it features the most straightforward rock sound, showcasing the musicianship of each band member – these playful, catchy songs were meant to be played live. With each of their follow-ups, however, the songs got progressively more complex and written primarily for the record. While I maintain that the band's songwriting has only ever improved, I do admit that the newer, more produced songs require some careful backwards-engineering to bring back to the stage, and there were some noticeable hiccups, but they get an A for effort on those songs.
Overall, the show was excellent. The setlist covered nearly ⅔ of the band's whole catalog, so it seems doubtful that anyone left unsatisfied by a particular omission, though would've loved to hear "Diplomat's Son" or "Worship You," especially since the latter sounds like it was written with an amphitheater-type environment in mind.
Actually, there are several stadium-sized songs on Modern Vampires, an interesting concession towards the festival-oriented, DJ-dominated world of most big touring bands. One of these, "Ya Hey," which they did play, includes a bridge where Koenig does this odd little R&B talkdown: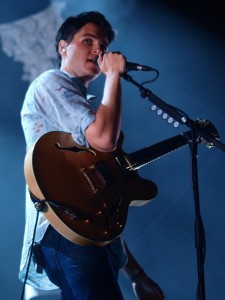 "Outside the tents, on the festival grounds
as the air began to cool and the sun went down
my soul swooned as I faintly heard the sound
of you spinning "Israelites" into "19th Nervous Breakdown"
Koenig waxing poetic about a DJ playing Desmond Dekker and the Rolling Stones (respectively) somehow created a resonant moment on the Washington County Fairgrounds, and I'm glad I was there to witness it.

Setlist (approx.)
Cousins
Cape Cod Kwassa Kwassa
Unbelievers
Diane Young
White Sky
Step
Holiday
Everlasting Arms
Ya Hey
California English
Horchata
A-Punk
Giving Up The Gun
Oxford Comma
Obvious Bicycle
Boston
Finger Back
Hannah Hunt
Walcott