New solo exhibition "Attention to Tension" showcases wide breadth of work at RAM in Fort Smith
Fort Smith's Regional Art Museum (RAM) is hosting a solo exhibition by Suzannah Schreckhise from Oct. 16 to Jan. 31, 2021. "Attention to Tension"  features approximately 40 of her works including 17 handcrafted masks in series titled "BREATH" in response to the current pandemic. The exhibit follows from Schreckhise's success at the 2019 RAM Invitational, at which she won the first-place prize for her thought-provoking mixed media piece "Who Belongs on Our Money?". A Lecture by the multidisciplinary artist will be at 7 p.m. on Dec. 3 via Zoom. If viewers are unable to attend the museum in person, Schreckhise's artworks can be viewed on her website.  Exhibited works will be available for purchase and will remain on display through the duration of the show. Admission to RAM is free and the hours of operation are Tuesday – Saturday from 11 a.m. to 6 p.m. and Sunday from 1 p.m. to 5 p.m.
Schreckhise on Attention to Tension:
"In times of isolation, a sense of comfort and place feel especially important; and yet, during these times, tension is extremely high. For me, textile art has become the perfect visual representation of the strangeness and tension of this time, and as such, I have brought three series together to give voice to this very tension: what it looks like, what it feels like, and how it helps push us to change. These series are Knots in Your Stomach, Masks, and my ongoing series of crocheted works layered over paintings.
"The motif of tension is always present in the medium of crochet, where each stitch depends on two opposing forces: the repeated creation and dissolution of tension in the yarn. As I crochet, I create an object that is both tightly connected and relaxed, thus creating works that express tension both literally and metaphorically. In this way, I use the physicality of the materials and the form to represent the contemporary historic moment, in which stress marks our every move and yet relaxation is everything.
"As an artist who uses textiles to subvert domestic forms, I often make work that assigns abstract marks and gestures to apparently practical forms. For example, during the Covid-19 pandemic, I have made several usable masks out of fabrics with personal history, therefore bringing together materiality, texture, and color to evoke specific times and places, and working to foster a sense of timelessness and togetherness in the midst of isolation, shifting a practical object into something fresh and meaningful: artwork that speaks both to the value of tension and the relief when we dissolve into the soft material it can help create."
Schreckhise on the Crochet Textile Series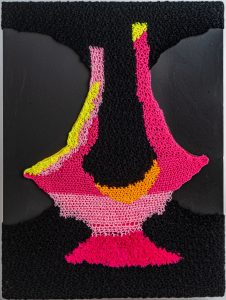 "My hands actively integrate bursts of carefully planned colors, using crochet layered over completed paintings. I explore and unite a conglomeration of materials, yarn weights, needle sizes, and stitches, creating energetic texture and color relationships. Through an asymmetrical presentation, I re-conceptualize the domestic art technique of crochet as an intuitive, authentic art medium.
"The texture and color of the fiber interlock in a series of knots as I stretch the crochet work and mount it over the paintings, luminous between stitches. The colors of the paint and texture of the yarn meander between stimulating, vibrating color and more calming hues. As these pigments interact, they absorb and transmit different wavelengths of light, producing a variety of tones, hues, shades, and depths of color, and suggesting different emotions. The crochet layered over the painting intensifies the textural sensory experience, which in turn evokes childhood memories of handcrafted domestic items.
"The non-uniformity and asymmetrically of the work represent the intuitive nature of art-making itself. I start each piece with a plan in mind while leaving room for my inner voice and intuition to guide the creative process. As I work, I am sensitive to how the materials and colors react to each other. My inspiration comes when I close my eyes and see remnants of light; my creative interpretation of the shapes, colors, and lines refine these after-images into artwork."
Schreckhise on Knots in Your Stomach Sculpture and Photograph Series:
The scope of this series is to examine and give physical form to intense emotional and bodily reactions triggered by past events. The series explores the possibility of calling on everyday resources to intervene in trauma reactions, creating a shift to a calmer state.
Each sculpture is composed of a deconstructed rubber stress ball attached to bent and curved painted wood. I soak the wood in water and sculpt it into shape while it is wet, in a process reminiscent of basket-making. When dry, it holds its shape and I sew the colorful fragments of the ball onto the structure. I then photograph the original sculpture, allowing the photographic form to mirror, alter, and create a sense of symmetry among bright colors, and changing the original sculpture into an alternative form.
"This body of work explores the intersections of art, tools, and place. Each mask is a standalone piece of art that also functions as an air filter. Using materials, clothing, and fabrics from my own collection that hold memories, I experiment with assigning both safety and beauty to an otherwise strictly utilitarian object. Working with these old materials and domestic techniques brings a sense of familiarity and comfort in the midst of the sudden paradigm shift the global pandemic represents.
"The time I spend participating in this domestic art is simultaneously reflection and action, as well as the creation of a modern artifact. Participating in repetitive tasks that allow my hands and my mind to be active gives me room to explore my inner workings. These masks, then, are a visual diary of time spent in isolation—breathing with each stitch and working within the framework of each breath to stay mindful and present, while at the same time slipping back to the thought that every breath needs protection in public. Often, I find that I have skipped stitches, or need to take out seams or recut patterns. Each new decision is an opportunity for me to control the tool that has become my sense of place."
About Suzannah Schreckhise
Suzannah Schreckhise is a multidisciplinary visual artist based in Fayetteville, Arkansas. She earned a Bachelor of Art at the University of the Ozarks. She is a 2018 Art Inc Fellow. She has participated in and won awards at numerous state and national exhibitions, including shows at the Woman Made Gallery in Chicago, Topanga Gallery in Los Angeles as well as exhibited at the  Ceres Gallery in New York City. Her art has been featured in several publications, including the international juried magazine Studio Visit. In 2021, her work will tour the state as part of Arkansas state Women to Watch exhibition Paper Routes, curated by Allison Glen for the Arkansas National Committee of the National Museum of Women in the Arts; she was juried onto the committee's artist registry in 2019. She won 1st Place at the RAM 2019 Annual Invitational that was awarded this 2020 solo show and a cash award.