Review: "Hangout 4 "Plvto&Friends" ft. Baang, Livesosa, JasperLogan, MeetSims, JayyNygg See-Right, And ?????
WORDS / ANDREW MCCLAIN
The fourth in a series of mixtapes by Fayetteville-based rapper and producer PLVTO (aka Darius Jones) is a breezy 14 tracks, and PLVTO keeps it brief and punchy with most of them, never rambling or wearing out his welcome, demanding multiple listens.
"[The 'Hangout' series] is a project I started in 2013 as just songs me and my friends could have kickbacks to… I had no plot except I knew if I didn't think I could play it on a playlist alongside my favorite artists, I wasn't going to put it out," Jones said when The Idle Class reached out to him through Twitter direct message (the best way to contact a rapper, in our experience).  
To hear that Jones was striving for professional quality and a laid-back vibe completely checks out. The production style throughout is dreamy and atmospheric, using samples that sound like they were ripped from '90s easy-listening instrumentals–like vaporwave with a strong backbone of blown-out 808 kicks and skittering hi-hats á la Metro Boomin.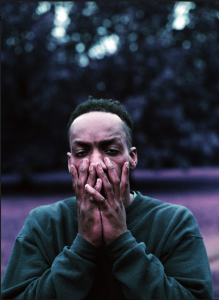 As an MC, he is thoughtful without necessarily being ponderous or "conscious"–reflective and moody without being navel-gazey or emo; smooth without being excessively braggadocious. Subject matter ranges from flirtatious-but-respectful come-ons, to smoking up with friends. "Mercvry" is dense with astrological interpretation, and on "Hves," bong hits are "smooth like gravy." 
"'Hangout 4' was about me finally 100% expressing myself with no inhibitions," Jones said. "I wanted to show people how versatile, smooth, intelligent, and funny I usually want to be. But as someone on the spectrum, it's hard to do that socially most of the time, so when I am in my studio, that's where I get to be all of me. And so I made 'Hangout 4' with every intention of grabbing everyone by the ears."
The second half of the mixtape picks up with "Finito"–a slightly more menacing track than the others, and starts a parade of featured rappers who are only credited in the mixtape's title, but the ensemble brings a rising level of energy to the mixtape. The featured artists are mostly from Arkansas: Livesosa and Meet Sims are from Fort Smith, Jasper Logan is from Fayetteville, See-Right is from Marvell, and Baang from Little Rock. "The only outsider is JayyNygg from St. Louis and I have a really cool friendship through music with him," Jones said.
The project makes for a good introduction to PLVTO, and a good invitation to check out his back catalogue.
–
Birdy Freestyle (Intro) Mixtape Trailer // Soundcloud link