"Remote Access: Small Public Libraries in Arkansas" by Sabine Schmidt & Don House
Remote Access: Small Public Libraries in Arkansas by Sabine Schmidt & Don House
University of Arkansas Press, 2022
Libraries have long served as cultural hubs for rural America. They provide a way for kids from the backwoods to visit new worlds through sci-fi and fantasy. A chance for parents to mingle during summer programming. A place to log on to the Internet when access is limited. Although rural libraries might feel cramped, they still offered a doorway to a larger world. This magic stays with people who grew up in such tiny, book-filled buildings across Arkansas. If you spent your time in one of these places, there's a good chance you can close your eyes and still smell those old tomes lining the shelves.
Photographers Sabine Schmidt and Don House visited 21 libraries in all regions of the state for their book Remote Access: Small Public Libraries in Arkansas. "Our purpose was to honor small community libraries and librarians, and to highlight the important and changing role they play," said House. "While Sabine focused her camera on the community—the architecture, the landscape, the history of the place—I set up a backdrop in the library and photographed every person who walked into the building on that day. The images from those two approaches tell a story of the community, the people who live there, the people who depend on the library and its services."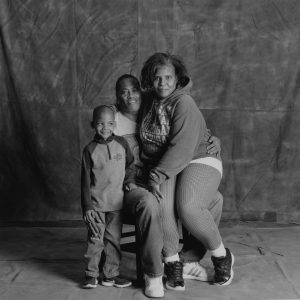 Excerpt from "The Guidance of Strangers," by Sabine Schmidt, prologue to Remote Access:
When the light is fading and librarians are getting ready to lock up, I find it hard to stop looking for photos. Maybe there is one more, maybe around that corner. Or perhaps I should go back and reshoot from a different angle. Sometimes I feel like an overtired child who doesn't want to leave the playground or the library, because going home means the day is over. And like an overtired child, I am too full of sights and sounds, and what I really need is sleep. There is a particular fatigue at the end of a day spent unloading equipment and setting up the backdrop for Don's portraits, talking to the librarian, asking patrons to fill out model releases, trying to convince unwilling sitters of the importance of their participation in our project, taking photos inside the library, then leaving to walk or drive around town for exterior shots, tearing down the backdrop, loading the equipment in the truck, find­ing some food, and finally sitting down at the campsite or in a room. Writing sometimes helps, as does staring into a fire or the night sky.
We completed our last scheduled library visit on March 3, 2020. It was a day trip to Charleston in the Arkansas River Valley, about two hours away. I ran out of time and decided to come back in a few days. It wasn't the only town I needed to revisit for a photo or two I had missed because the light had been wrong or the weather not right, or maybe because I didn't think of that one image until later. I hoped to go on a wrap-up trip around the state in April or May, before it got too hot in the southern parts of Arkansas. Like so many people's plans, mine was derailed by the COVID-19 pandemic. Instead of visiting with librarians and wandering around small towns with camera and tripod, I looked through the impassive eyes of Google Street View to verify details for the essays in this book or just to spend a bit more time in Hamburg, Stamps, Parkin, Menifee, or Wrightsville. And, of course, to plan the next scouting trip. We still have much to discover.
—
Featured image – Eureka Springs Carnegie Public Library, Eureka Springs photo by Sabine Schmidt