Q&A: TriPpY HipPy drops the beat in NWA
The electronic-dance music scene has taken flight in Northwest Arkansas, and one DJ in the mix has jumped in head(phones) first. Spencer Jones, or TriPpY HipPy in the EDM world, has made a name for himself locally at Axis Lounge, George's Majestic Lounge, and he's opened for various DJs in the southwestern region. We talked with Jones about his DJ experience in Fayetteville and what he has planned for the summer.
IC: Tell us a bit about your background. When did you start getting to EDM production?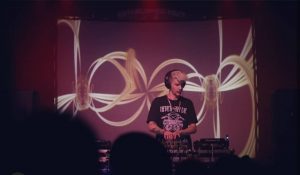 SJ:  Hands down, 2011 Skrillex is what first peaked my interest into EDM. He was a pioneer of sound and I was on the bandwagon instantly. My good friend Juan Arredondo ("Dondo" is his DJ name) showed me the ropes as far as DJing. Forever grateful for that.
How long have you been producing/playing? In that time, where has been your favorite place to play?
I first got into EDM DJing and producing about 4-5 years ago. My favorite place to play is probably Axis Lounge. They always let me be fully in control of the lineup and time slots. And when Axis gets really packed, it always give that sweaty club-vibe that really gives the crowd a certain energy for the night.
What about your music and genre excite you? Any challenges?
One of my favorite things about dubstep (and all of EDM) is how free it lets people be. They can escape from themselves for the night. People can drop their ego at the door, and come in and dance the night away and really let loose. There's no judgment at EDM shows.
The most challenging part is trying to stand out. The EDM scene has blown up in the last few years because of the trendiness of music festivals. So you constantly have to try new things to make yourself stand out in the scene.
If you could be any beverage, what would you be and why?
I'd be a Vegas Bomb! Vegas Bombs are always the party starter drink for me and my squad. I like to think that I'm also the energy of the party.
TriPpy HipPy's hosting the Graduation 2k19 Block Party on May 11 at Nomads Music Lounge. After that, he'll be playing a set at this year's Backwoods Festival at Mulberry Mountain. Keep up with the dub-wubbin' life on Instagram @trippy_hippy_bruh and on Soundcloud.