Q&A: Deep Cuts with Yuni Wa
photos courtesy of Michael Sutterfield
The hairpin twists and turns of life can have indelible consequences, as Princeton Von Coleman, better known as Yuni Wa, knows very well. Had it not been for the Little Rock Boys & Girls Club the 24-year-old producer and DJ may have never had the resources to nourish his interest in music. Later on, when he was sent to an alternative school, going to the Boys & Girls Club on the weekends to make music became his only escape from the stress. Not long after, Yuni struck gold with the viral future funk hits "So 1989" and "All About You," earning him a cult following of vaporwave aficionados as a teenager.
Listening to Yuni's deep cuts on Bandcamp is like performing an archaeological dig on his musical coming of age. Early vaporwave releases prioritize sampling, nostalgia, and warmth, but with maturation, he turned his attention to dance music and ambient sounds, conjuring slick, immersive soundscapes like "Computer." As someone who grew up on Hamtaro and Star Trek and cites both Sun Ra and Flying Lotus as influences, his music exhibits a love for pop culture and Afrofuturism.
For a time, Yuni believed his Context album series would remain a trilogy. In another hairpin twist of life, he decided to ignore his doubts and go for a grand finale, releasing the expansive 20-track collection, Context 4, in April of this year. Otherworldly and teeming with heavy-as-lead synths, Context 4 sounds like a dark rave in a dystopian universe. It's a standout release to come out of Arkansas in 2021.
With live shows starting back up, Yuni has set his sights on growing Arkansas's electronic music scene, launching a concert series called High End Theory. Today he has blessed our ears yet again, releasing an electronic pop EP, Shimmer. Yuni caught up with us to talk about his roots in Little Rock, vaporwave origins, creative philosophy, and what's new in the Yuniverse.
THE IDLE CLASS: As a teenager, you were sent to alternative school. How did that affect you and your musical development?
YUNI WA: I got kicked out of Central [High School] when I was about 15 or 16. [Alternative school] was really stressful for me, so what I ended up doing was focusing on music, what I loved. A lot of people don't find something they're passionate about in environments like that. I was lucky enough to find something and excel at it. I don't take it for granted. I'm really appreciative of the fact that I was able to do so much at a time when I felt so little.
I ended up making these pretty big songs when I was 17 or 16, which were "So 1989" and "All About You," those really big future funk, vaporwave songs. It gave me a cult following not just in Arkansas, but around the world. I was never really worried about Arkansas because I cared about being known around the world. It helps my outlook when it comes to making music. It's like I still represent represent Arkansas really well, I'm still trying to like be artists that can't be replicated in their own lane.
IC: At what point do you think you took yourself seriously as an artist, as Yuni Wa?
YW: It was when I was playing football for Central. Because I would produce some times, produce off and on. And then I'd stop. And then I'd produce. And then I'd stop. Around the time I quit football, I started staying at home and making music. Before that, I remember listening to my beats after football practice and thinking, "Man, these beats are trash." But I always knew what I wanted to make. It was just about attaining the ability to make that.
IC: Part of romanticizing the creative process is all this talk about having inspiration strike you. To get to your level, did you have to start treating the creative process as a discipline, instead of a stroke of inspiration?
YW: Absolutely. You have to take yourself seriously. It's more than just something you love and are passionate about. It's also your job. Like with any job, people go to you for the quality of your work, and you want them to stick around and listen for years. I've got people who have been listening since I was 18. I'm 24 now. A lot of people saw me grow up online. For me to be worthy of being followed and listened to for this long, I always knew I had to deliver on quality. The people are the ones who consume [the music]. I had to start looking at music as a committed job very early.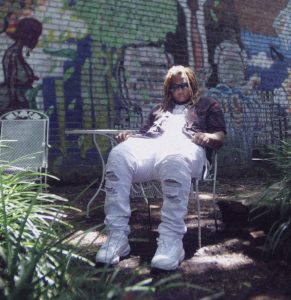 IC: How do you negotiate between making music you know your listeners love and exploring new ground as an artist, even though that might mean not making the most trendy or palatable music?
YW: I've never cared about being trendy. I've always cared about being me. I'm lucky enough that people like my music, even when I'm doing me. I'm lucky that I naturally have these feelings and emotions that I can convey sonically and people can identify with that. My music takes on a lot of forms. It's not just one genre. It's a bunch of different genres and a bunch of different emotions. I make music for sad times, good times, bad, melancholy times that come with depression and anxiety, all the shit that comes with life.
IC: A word a lot of publications use to describe you is "prolific." What's the running total of projects you've released, and looking back on your discography, what do you observe about your evolution?
YW: I believe it's between 45-48 releases. Back when I was 18, 19, I was releasing six albums a year. I took a lot down from streaming services because I wanted to clean things up a bit. I made one big compilation of my synthfunk. Most everything is on Bandcamp. A lot of stuff I pulled from the internet early because I didn't like it later. Fragments of what I was doing back in 2015 can still be found. It's part of my evolution. I never knew what type of music I'd make from the perspective of my younger self. I was just making what I wanted to make. And then I realized recently that I evolved to be way more contemporary. You can tell I'm older and more mature in my music.
IC: You gained a cult following through your vaporwave releases. Vaporwave is such a niche internet genre of disparate influences like '80s pop music, anime, and retro-futurism. What drew you to it?
YW: It's so niche. I love how vaporwave and synthwave and all these avant-garde perspectives on retro music being remodernized in a way that's futuristic take something from the past to the future. I think modernizing something that already existed in the past and bringing it up to date is really cool. Just because these old sounds happened a long time ago doesn't mean they still don't sound good. You just need someone to put a cool spin on it, reinvent it. And that's what really makes a great artist.
When I was getting into vaporwave and future funk, I listened to MACROSS 82-99, Saint Pepsi, SUPERSEX420. I would wake up in the morning and bump some future funk and get so lit. The sound is so pure and so energizing….Just listening to this music at school in the computer lab would get me so excited. It is one of the most uplifting genres of the last era.
IC: Over what period of time did you develop Context 4, your latest album?
YW: It was over two years….I was traveling and making music in Florida and LA, and I really wanted to give myself time to make a really good last Context album. I knew it was definitely going to be the last one. Originally, I was going to stop with the third one….Then I figured I needed one more album to seal the deal. I took my time. I wanted to make contemporary electronic music. I wanted to make dance music. I feel like I did a good job. [Context 4] is very bold, and every song has a very specific atmosphere.
I look back on it and I'm glad I made it. I'm glad I didn't listen to myself originally….Sometimes I overthink and I get to where I don't want to ruin my own legacy. It's like you make a series of really good albums and it's like, "What if one of these is off a little bit and it fucks your whole legacy up?" It's kind of like if you have such high standards for everything you do already, you're afraid of fucking up. It's like perfectionism, but bound to that idea of keeping your legacy fresh. You overcomplicate it for yourself.
IC: Is there a song that sticks out to you on Context 4 because of its songwriting process?
YW: When I wrote "Edge of the Earth," I remember feeling so full of anxiety. I wanted to make something that energized me and soothed me at the same time. When you listen to it, there's a lot going on with all the synths intertwining. But it put me at ease. The concept behind it is feeling like you're on the edge of the Earth. The Earth don't got an edge, but sometimes I feel like I'm on that shit.
IC: Context 4 is the fourth installment of the Context album series. What is its role in this six-year-spanning series?
YW: The series is about the context of my growth, being able to see the context of my whole career….The series is the best way to hear the growth in the context of my whole music career….Context 1 is a lot of trap and electronic music, a lot of redefining future bass. A lot of these Context albums have the most future bass out of my whole catalog because that was me trying to new things and not limiting myself. You can hear future bass on Context 2 with "Blood in My Eyes"…On Context 3, "Powerade" is a future bass song.
Context 4 has the most growth. There's some future bass, but a lot of it is house and techno. I'm much older and different. My perspective on music has changed, and it's reflected in the music you hear….It is one of the best albums I've ever released. It's really bold. It's got a lot of different sounds. It embodies everything. It embodies who I've been for the last couple of years.
I see it as a high point in my artistic abilities. I also wanted to get across the message of Afro-futurism…I'm inspired by Sun Ra, Flying Lotus, and all those great Black artists who were living in the future, thinking about space travel and computers.
IC: Afrofuturism has existed for a long time, but continues to gain cultural relevancy. I think of Black Panther and Kimberly Drew and Jenna Wortham's Black Futures book, which was published earlier this year. Why do you think the concept of Afrofuturism continues to be so potent?
YW: Because it's amazing. When you see a lot of sci-fi movies from back in the day, you don't see a lot of Black people in these movies that are supposed to be about the future. Up until the recent Star Wars you weren't seeing Black people with prominent roles. The same goes for Star Trek, and I grew up watching that….Black futurism needs to be examined and explored, so who better to do it than me?
IC: What's your favorite part of the entire process of creating music, from songwriting to production to playing shows?
YW: Playing music to a crowd of people who feel it and want to dance. I love being able to share my art and see people enjoy it in real time being as happy as can be. Especially because of this pandemic, everybody has all this stress pent up about the future, where society is heading, climate change. There's so many things to be worried about humanity. Just having a couple of hours to enjoy yourself with music makes all the difference.
IC: What do you envision for the future of your live shows here in Arkansas, especially with your High End Theory shows?
YW: I've always wanted to cultivate the electronic scene here. Now I'm at the point where I want a full-blown rave culture. I'm starting to do electronic shows here. I know I'm not the only one who likes this music here. I want to make a space that's inclusive for its people. And I think that's really important.
IC: You have a vested interest in cultivating electronic music in Arkansas, but also you want to reach your full potential, which for most musicians often means moving out-of-state. How do you negotiate whether you should stay or go?
YW: If I had a show in LA, I would rather just fly there. I love the peace and quiet. I don't take it for granted. I've been to a lot of big cities, and they're just overpopulated. I don't like being in overpopulated places. It's disgusting, chaotic. You can't control it. I think about quality of life and how that would reflect in my music. If I can just travel [to big cities], that's what I'll do.
IC: How were you impacted by the pandemic and the halt to live music?
YW: I'm still feeling the mental burnout and anguish from the live music industry stopping. It has had very long-lasting effects, and it has been very abrupt. When the pandemic hit, I had just started doing out-of-state shows. I had been trying to push outside of Arkansas for years. I had done probably 80, 90 shows in Arkansas. For something I'd worked for that long, to have these shows out-of-state, and have that ripped away from me so abruptly, it felt like a lightbulb was extinguished. It was a lot for me. It still kind of is, but I'm dealing with it better. I've been doing live online shows. I did a live Twitch concert for Amazon Music on their Twitch Channel….They made me the face of the Electronic Breaking playlist earlier this year. That was one of the biggest spots I've gotten.
IC: Congrats! Your new EP, Shimmer, is out September 24. What can you tell us about the meaning behind the title?
YW: You have to be a light, not just for yourself but for the world….I'm always going to be strong for myself. It takes a lot more to be a light when you don't want to and for a bunch of other people. You're taking on a lot of weight on your back. I want to be a light on the world's terms because sometimes the world needs that light. It's easier for us to be the light within ourselves. It's harder for us to be that for other people. This album is me thinking about how to make other people, spiritually, feel good.
IC: Who do you have in mind with "other people"?
YW: Everyone. Whoever listens and understands what's being conveyed. Especially in music, you can feel like you're not growing fast enough, and a lot of it can make you feel heartbroken. A lot of it can make you feel like you're not doing well, or you're reaching your full potential. Like with any job, you gotta deliver and you gotta be good, even when it's really hard.