OVAC announces annual fellowship awards, KIN curator Dylan Turk acts as 2021 guest curator
Each year the Oklahoma Visual Arts Coalition (OVAC) presents two Oklahoma Visual Arts Fellowship awards of $5,000 each to individual Oklahoma artists. Additionally, two Student Fellowship Awards of $500 are given to two individuals who attend school in Oklahoma. The Fellowship Awards are intended to reward qualified artists with outstanding vision and are chosen by a guest curator from applications submitted by the artists. The Oklahoma Visual Arts Coalition strives to support Oklahoma's professional visual artists, and these awards are intended to recognize past achievements and future promise and can be used as the artists' needs require.
"The Fellowship and Student Fellowship Awards honor these artists' achievements and offer financial support for visual artists here in Oklahoma," says OVAC's Executive Director, Krystle Kaye. "We are so proud of these artists and we look forward to the next chapter in their careers."
The guest curator for this iteration of the Fellowship is Dylan Turk, Co-Founder and Curator of KIN, as well as the Special Projects Editor of Architecture and Design at Crystal Bridges Museum of Art in Bentonville, Arkansas. "Artists help us see where we've come from, the beauty and realities of the present, and inspire us for a better and more beautiful tomorrow," says Turk. "These four artists are exceptional examples of the people that make up the great state of Oklahoma." OVAC selected Turk as this year's guest curator "not only for his curatorial expertise but for his youthful edge, his fresh take on the art world and his enthusiasm for art and for advocating for artists," according to an award announcement. 2021 saw a record-breaking number of submissions and winners are selected at the full discretion of the guest curator.
The selected 2021 OVAC Fellows are Jason Cytacki (Norman) and Skip Hill (Tulsa). The Student Fellows are Dimana Bazrbashi (Oklahoma City; The University of Oklahoma) and Claire Dabney (Stillwater; Oklahoma State University).
The funds are unrestricted so the artists may use them however they like. In addition to the funding, the artists and their work will be showcased in profile videos and promoted by OVAC throughout the year.
OVAC FELLOW BIOS AND ARTIST STATEMENTS:  
Jason Cytacki // Norman, Oklahoma 
Jason Cytacki is an Associate Professor of Painting at the University of Oklahoma. Jason earned his MFA from the University of Notre Dame in 2011 and now lives and works in Norman, Oklahoma with his wife and children. His work examines the underlying framework that mediates the values, meanings and symbols of the world we inhabit. His work is represented in commercial galleries including JRB Art at the Elms in Oklahoma City and is part of the permanent collection of the Rockwell Museum in Corning, NY.
Artist Statement – These paintings present serene nocturnes of everyday Midwestern scenes. Dramatic lighting creates a cinematic atmosphere, setting up a stage in which the actors seem to have already left. These vacant scenes exist at the threshold of something ending or perhaps something that is yet to come, functioning as a liminal space. Using specifically mundane imagery, each painting presents a common experience, evoking a sense of ambiguous but relatable familiarity. However, each image actually depicts a hand-built miniature set, these familiar moments never really existed. The illusion dissolves upon closer inspection when visible details such as the corrugation of the cardboard and tape become apparent, suggesting fragility and artifice. My sculptural works continue this sense of artificially constructed reality functioning as physical iterations of the models created for my paintings. Here, however, the places are very specific and personal. Pieces of walls, furniture, and objects are all recreations from my childhood home in Indiana and related spaces. Although these images reflect my personal experiences, they are curated to feel familiar, such as visiting Pizza Hut as a child. I translate these spaces into graphite drawings attached to simple wood structures. Inspired by the crumbling wonders of classical ruins, these life-sized fragments are painstakingly reconstructed from family photos, archival images, and my own memories. Each piece is somehow incomplete. Drawings are unfinished and structural elements are left exposed; this stereotypical Midwestern American world fades but may never have actually existed at all. Much as classical ruins reflect an irretrievable halcyon era, these sculptures create a sense of unattainable reality, a futile recreation of a seemingly perfect past.
Skip Hill // Tulsa, Oklahoma 
Skip Hill was born in 1961 in Padre Island, Texas but grew up living in the Oklahoma City area. After high school and attending Oklahoma City University, he worked in various creative positions in advertising before relocating to Southern California. There Hill produced freelance graphic design work and spent time traveling throughout Baja, Mexico. The lure of wanderlust took him to many places around the world, including Thailand, the Netherlands, Morocco, and Prague. Frequent visits to the great museums of Europe provided the aesthetic experiences that sparked Hill's interest in creating art inspired by aesthetic and conceptual concerns over the strictly commercial graphics from his years in advertising.
His return to the United States in 1991 brought about a reunion with his estranged father in Birmingham, Alabama and his introduction to the informative work of southern outsider artists Lonnie Holley, Jimmie Lee Sudduth and Mose Tolliver. Shortly after returning to Oklahoma in 1992, Skip Hill studied at the Fred Jones School of Art at The University of Oklahoma with noted Native American conceptual artist Hachivi Edgar Heap of Birds and influential abstract painter George Bogart. Since then, Hill's colorful and lyrical works have been exhibited extensively throughout the state in cultural institutions and galleries that include Oklahoma Contemporary, Fred Jones Museum of Art, The Betty Price Gallery at the Oklahoma State Capitol, Gaylord-Pickens Museum, Goddard Art Center, Untitled Artspace, Living Arts Tulsa, 108 Contemporary, The Philbrook Museum, JRB Art at the Elms Gallery and Mainsite Gallery. Skip Hill's original painting 'The Dream Sower' was inducted into the Oklahoma State Art Collection by the Oklahoma Arts Council in 2014.
Artist Statement – In a world that often feels out of order, it is profoundly human to seek some semblance of control to reshape the world and our experience of it by whatever means of imagination we have. Reconfiguring the world using the technique of collage and mixed mediums is at the heart of my art practice. I decontextualize. I rearrange. Then I reconstruct using hand-cut paper, acrylics and inks, to produce colorful drawings, paintings and murals that establish a personal world of lyrical moods, and lush, visual experience. Frequently my art features imaginative portraits that revisit and reorder perceptions of beauty and representation. I centralize the figure within verdant environments of ecstatically dense, yet balanced compositions of seemingly chaotic arrangements; landscapes teeming with exotic birds and flora and busy barber shops and beauty salons crowded with music and Black hair care products. The aesthetic of my paintings is drawn from African American folk art, African tribal motifs and contemporary popular culture. My visual language is rooted in the geography of my travels through Europe, Asia, Mexico, North Africa and Brazil. I find inspiration in the canons of art history from Franz Hals and the portraitures of the Dutch Golden age to the Japanese woodcut artist Kitagawa Utamaro and the collage works of Romare Bearden. My art is most profoundly informed by narratives, intuition, improvisation, and the act of creating order out of the remnants and scraps of disorder scattered about my studio.
OVAC STUDENT FELLOW BIOS AND ARTIST STATEMENTS:
Dimana Bazrbashi // Oklahoma City, Oklahoma 
Dimana Bazrbashi is an artist born in Sliven, Bulgaria. She is currently based in Oklahoma City, Oklahoma where she grew up. She studied at Oklahoma City University for two years and completed her BFA in Studio Art at the University of Oklahoma in 2021. Mainly working in paint, she is currently exploring themes of identity and isolation in her work.
Tending to keep it personal, I look to close friends and family as well as the environment around me for reference. People are a perpetual curiosity that I explore through painting. When painting people, my backgrounds have imagery that connects with the person depicted and clues into their identity and personality. Self-portraits are the subject I find myself most frequently revisiting. Painting myself is a good way for me to show how I'm feeling at the time. I see my work as a journal of my life, a way for me to discuss the personal in the way I'm most comfortable, with paint. Watercolor has been my favorite medium to work with for its translucency and unforgiving nature. Themes of isolation have been brought up in recent work as I reflect on my experience in a rapidly changing world through my quiet, individual perspective. I take note of the feeling of separation from this fast-paced reality. Through self-portraits, I started diving deeper into my own identity, my Bulgarian roots, and have found interest in traditional embroidery. I'm drawn to the bright geometric patterns, deep with symbolic meaning. I'm beginning to incorporate embroidery into my paintings, and in doing so, I'm furthering my knowledge on my background and reconnecting with this part of my identity.
Claire Dabney // Stillwater, Oklahoma 
Claire Dabney is an Oklahoma-based artist who works in photography, oil paint, and fiber arts. Dabney's photography focuses on feminist iconography, while her paintings confront social issues and mental health. Dabney is currently finishing her final semester of undergraduate studies at Oklahoma State University with a focus on oil painting. Her work has been showcased in Modella Gallery's Faces of COVID exhibit, as well as OVAC's Momentum exhibition. Though her career is just beginning, she is extremely hopeful and motivated for the years to come.
In my most recent work, I strive to create meaningful pieces that everyone can relate to in some way. In this collection of artwork, viewers will see subjects ranging from COVID and repressed anger to body image and mental health. My paintings titled Mommie Dearest and Midsommar's Psychosis employ film characters to represent feelings that are too convoluted to simply describe—the state of mind of an uncontrollable addict, and the psychosis of a woman that has lost everything and is desperate to feel loved—these psychological challenges are common, but rarely confronted. The other eight pieces are more of an inward look into my own insecurities and health struggles, whether they be mental or physical. My photography solely looks into the complexities of bodily insecurities such as weight, age, and makeup. My remaining five paintings tackle the issues of being locked up during COVID and offer a look into emotional range, the aid of medication, and the idealization of contorted relationships. My newfound signature in my painting work is my use of embroidery floss. I have found that it creates a spectacular deepening effect in the work and makes the figures seem tactile enough to interact with. When experiencing my art, I hope that every person sees a part of themselves that just seems too terrifying to face alone. That those dark corners of your mind are brightened, with the knowledge that you are not alone in your situation.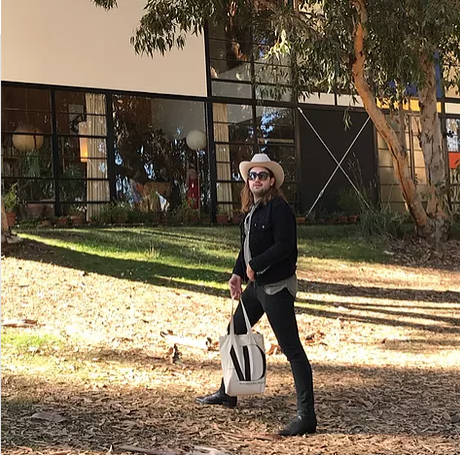 GUEST CURATOR: Dylan Turk // Fayetteville, Arkansas 
The ultimate dreamer, Dylan believes that through beauty we can make our fantasies realities. The way things come together—the magic of persuaded coincidences keeps him going. He leans on deep and varied curatorial experiences to lead KIN's direction and artistic endeavors. Dylan worked in a small gallery before serving as a curator at Crystal Bridges Museum of American Art, where he is now a Special Projects Editor, Architecture & Design. His vision for how art should be experienced championed many exhibits, permanent installations, publications, and national lectures. At the heart of his practice is the belief that there are no rules in art—there can't be. We must constantly push ourselves to stay relevant and forward-focused.
For more information about the OVAC fellows, visit OVACawards.org.
The Oklahoma Visual Arts Coalition grows and develops Oklahoma's visual arts community through education, promotion, connection, and funding.