Craig Colorusso's work usually starts with sound. Those sounds transform into art installations such as "Sun Boxes."
WORDS + PHOTOS / KODY FORD
---
Craig Colorusso's musical journey started like many other teenage boys'—he did it for the girls. At age 14 he began playing guitar in the hope of receiving romantic attention, but music opened doors to him he had not previously conceived of. A high school athlete, Colorusso felt a connection between sports and music, enjoying the physicality of playing guitar.
"[Guitar] felt different than everything else," he said. "I knew right away it would be a long path. Part of the deal with my parents was to actually take lessons, so I learned 30 seconds of all my favorite Led Zeppelin and Black Sabbath songs. My first teacher was an old rocker dude but later I hooked up with a younger guy and the lessons soon became more than just guitar instruction. Early on I was able to see the analogy of guitar and life and vice versa."
Over the ensuing years Colorusso toured with bands and became a multi-instrumentalist, but he began to crave more. While he enjoyed performing live, he did not like the barrier between performer and audience. During this period, he found himself more affected and inspired by paintings and sculptures than music. He said, "I wanted to create something without the barrier and, although I was a musician, I wanted sound to be just one of the many elements. The first piece was MB 89. The first show was at the Words and Pictures museum in Northampton, Massachusetts. I made a wall of fabric back lit with some dimmers and played saxophone with some electronics for two hours. It was a performance meant to be treated like an [art] installation. The piece evolved to three cylinders of fabric and light and I would play bass clarinet in one of them for four hours. The whole room glows and breathes with light and sound."
Colorusso's work usually starts with sound. He hears things in his head first. He said, "I have a lot of ideas. Some I like and some I feel obligated to make and stand before them.  There is an urgency with some of these ideas. I try and get those finished."
Wind has long inspired Colorusso. Once while raking leaves at a landscaping job, he stood in silence and awe watching the trees sway and the leaves sizzle. "My boss asked me what I was doing and I said, 'If I could make sound like the wind why would I play guitar?' He said, 'It doesn't matter. Keep raking.'"
While on tour out west for MB 89, he took a day of respite in New Mexico and stood in the desert, listening to the wind come out of nowhere, crescendo, and then mysteriously disappear. This inspired a piece he would create upon returning home—Sun Boxes. The musical art installation consists of 20 solar powered speakers, each playing a different note in a B flat chord. Each loop is different in length so the sounds change over time. Sun Boxes has traveled to 55 cities in 30 states.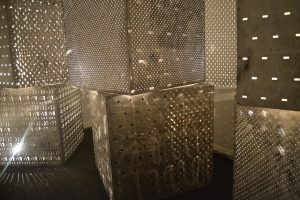 These days Colorusso focuses on installations, each featuring music and sound. His work Sound Swings can be seen in Northwest Arkansas at Uptown Apartments + Shops. This collaboration with Modus Studios features a set of three swings that, when moving, play different parts of a composition. If all three swings were to move 24/7, the resulting song would last 55 days. CUBEMUSIC, boxes of light and sound, have been featured at the Arts Center of the Ozarks and Northwest Arkansas Community College.
As for the future of his work, Colorusso plans to continue working with installations.
"I feel immersed in installations, like I am actually part of the art," he said. "I have a lot of energy and sometimes can't sit still. I don't like being a spectator. I want to make work that encourages people to be present. I like systems that evolve. I like things that glow, float and drone."
VISIT / CRAIGCOLORUSSO.COM