Ryan Jolicoeur-Nye builds up entertainment and community with his direction at NWA Ballet Theatre.
WORDS / LAUREN MCCABE
PHOTO COURTESY / NWA BALLET THEATRE & WILD AND WILDER
---
The art of ballet is daring, fierce and physically challenging. Northwest Arkansan and director of the NWA Ballet Theatre, Ryan Jolicoeur-Nye, has been able to collect inspiration from and evolve his career in ballet over the past 17 years.
Jolicoeur-Nye recounts beginning ballet at the age of 16 in a small, humble town of Central Maine. While he started his athletic career handling a football on the field, he soon stumbled upon a Russian dancer who had opened a school of dance in town.
"As a painter and a musician, dance seemed to fulfill the artist in me in a way that I had not yet experienced," Jolicoeur-Nye said. "Within a year and half I was training full-time at the Royal Winnipeg Ballet School, where I graduated and immediately got my first professional job offer."
While at Winnipeg, Jolicoeur-Nye was presented with the opportunity to create and conduct his first works of original choreography. He felt as if he was creating a painting with the movement of one's body and feet. As a choreographer working with a group of dancers, Jolicoeur-Nye explained, he felt that he was expressing all of the things that he couldn't do on his own.
Upon graduating from Winnipeg, Jolicoeur-Nye performed in several different festivals of dance and was involved in pieces such as Fernand Nault's Carmina Burana. Being in the ballet scene gave Jolicoeur-Nye the chance to create and direct ballet choreography across the US and Europe, including states such as Florida, Kansas, Ohio and Oklahoma. Jolicoeur-Nye's choreography even made its way to Niigata, Japan.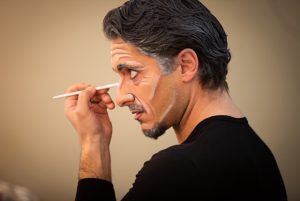 However, it has taken many hours of trial and tribulation for Jolicouer-Nye to become the choreographer and director that he is today.
"When I first began experimenting with choreography, I would write down every thought, step and movement," Jolicouer-Nye said. "It quickly became apparent that this process not only inhibited my ability to create but also the dancers' ability to give me the best of who they were as artists … I was trying to force things that just didn't fit."
Soon, Jolicouer-Nye became enthralled by the idea of a "superconscious mind" and how human-dance intuition was either creatively beneficial or a hindrance to the way that one writes and thinks of a dance.
Jolicouer-Nye then began to play music for his dancers, listening to each instrument and sound while comparing it with how the dancers thought to move with the songs. Through collaboration with the dancers, rather than merely choosing all of their steps for them, Jolicouer-Nye found it easy and natural to produce a successful ballet segment.
Moving into the NWA Ballet Theatre after retiring from dancing in ballets in 2016, Jolicouer-Nye has been able to work with and attract what he considers "incredibly talented artists."
"The community seemed so ready to have dance as a part of its artistic landscape and my goal is to have a company that best reflects the needs of the community," Jolicouer-Nye said.
Having the freedom to build up a team of dancers and community members is something that Jolicouer-Nye has come to appreciate about the NWA Ballet Theatre. However, he is quick to address that one of the biggest challenges for dancers and dance companies is keeping afloat with financial expenses. For him, the solution lies in combining the traditional with the new and unknown. Making a production that challenges others to become innovative creatives of their own, Jolicouer-Nye said, allows dance companies to find and promote the type of entertainment that will encourage people to pay homage to dance companies and foundations.
"We must explore the new tapestry of possibility in the art of dance while paying homage to the classics that helped get us here," Jolicouer-Nye said. "I am very proud to say that we are moving in the right direction, and I feel that we will find a way to overcome these challenges in innovative and groundbreaking ways."
The ballet company's most recent production of Cinderella, Jolicouer-Nye said, twists together the famous interpretation of the fairytale story with his touches of humor and creative liberties.
"After a strong, successful performance I feel proud, invigorated and inspired to create more," Jolicouer-Nye said. "I would say dancing professionally is an incredibly