By now, we know Olivia Trimble as our artist in shining armor, here to save the day from hateful vandalism in Fayetteville. She is the brilliant creator of the "Love Unites Us" mural on MLK, and even repainted the entire building after her work was defaced. 
Now, she's painted another wall, a beautifully done "Love Your Neighbor" mural at South Yard. The gorgeous multicolored capital letters are a lasting testament to the resiliency and love in the Fayetteville community.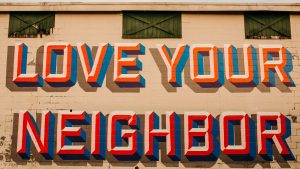 The best news is that her design is available as a limited edition T-shirt through The Houndstooth Press. Each T-shirt can be purchased online for $25, and Houndstooth is donating $10 from each T-shirt order to Second Helping, a non-profit founded by Nate Wells that combats food insecurity by providing meals to the local community. 
Find T-shirts available for purchase here.
Follow Olivia Trimble on Instagram @sleetcitywoman.