Little Rock filmmaker's screenings blaze a trial for student films
Luis Hernandez's bedroom workspace reflects his do-it-yourself ethos and an outpouring of creativity. Scrawled pen sketches cover the far wall like a collage tapestry, and his desk is strewn with zines and stickers from his clothing brand, Weazel Lifestyle.
Seated in the center of the creative mess, the 22-year-old filmmaker lights up and gestures excitedly as he explains the inspiration behind the student film screenings he's recently been putting on in Little Rock. The socially distanced screenings feature short films directed and produced by UCA students, but they're not affiliated with university programming and completely organized by Hernandez. Instead of waiting for opportunities to fall into his lap, Hernandez would rather take matters into his own hands.
"Local filmmakers need more support, but at the same time, you can't wait for anything," he says. "If you really want something, you gotta make it happen somehow."
Amidst March's flurry of COVID-19 cancellations, UCA called off the annual film festival, and film students who had devoted months working on their projects were unable to screen the fruits of their labor to an in-person audience.
A case in point, Hernandez spent a year developing, writing, and shooting Los Vagos, a short film chronicling the existential wanderings of a camera-toting Chicano twenty-something. He wasn't able to share the film publicly until late September at a Latinx-centered screening he put on at Little Rock's 7th Street mural. To involve the wider arts community, he recruited local artists to sell zines and T-shirts and paired Los Vagos with Samir Arellano's Masacre, David C. Cruz's Unos Huevos, Craig Wynn's documentary about the 7th Street Peace Week murals, and local rapper 9th Scientist's music video for "You Know What It Is?"
"I don't want a movie to sit there and die, so I want to give people opportunities to see these films," Hernandez says while burning a DVD for an upcoming screening at Vino's, Little Rock's beloved dive bar, pizza restaurant, and underground music venue. "For me, the whole point of making a film is to provoke some kind of reaction. It's a failure not to elicit some sort of response."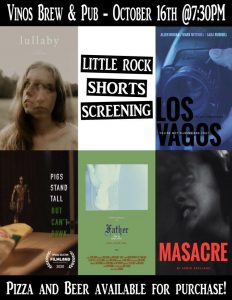 On Oct. 16, the Vino's screening drew a face-masked crowd to the restaurant's storied concert space. Before the lights dimmed, audience members were able to purchase merch promoting Llego Hoy, an upcoming Spanish-language, feature-length film Hernandez is producing with Cruz as director. The film documents what transpires when a mother, who arranged for her son to cross the U.S.-Mexico border and join her in the States, discovers her son has gone missing after a stranger arrives in his place.
The night helped expose a new audience to its five-film lineup, which consisted of Claire Barnett's Lullaby, Sophie Barnes's Father, Cruz's Pigs Stand Tall But Can't Dunk, Hernandez's Los Vagos, and Arellano's Masacre. For Tanya Lopez, a supporting actress in Masacre, the night's screening was the first time she viewed her performance.
Inspired by his father's experience during the 1968 Tlatelolco student massacre in Mexico City, Arellano captured the moment's political tension in a bloody 15 minutes. He believes the film has taken on new meaning in light of the George Floyd protests and the U.S.'s reckoning with racial injustice and police brutality.
"I didn't know how much it would relate to our present time and how cops are killing people," Arellano says. "Being able to show it to people who have experienced mistreatment and social injustice today—it breaks my heart knowing that people relate to it heavy."
Unforeseen technical difficulties prevented the remaining films from being screened, but remarkably, the crowd stuck around late into the night, chatting amongst themselves and visiting the Llego Hoy merch table. Hernandez took the complications in stride and thanked the audience members for their patience.
This is only the beginning of Hernandez's efforts to promote the work of local filmmakers in Central Arkansas, and he hopes to continue collaborating with local artists, vendors, and businesses. Future screenings will be advertised on his Instagram page.