"Larger Than Life: Paintings by Ray Allen Parker" debuts at Boswell Mourot Fine Art in Little Rock
Boswell Mourot Fine Art recently opened an exhibition of new paintings by Ray Allen Parker, a figurative and portrait artist from Fayetteville. The show opened on July 16 and runs through July 31.
Larger Than Life, a series of iconic portraits and secular altarpieces, presents large-scale oil-on-canvas portrayals that explore the human face and figure. These images represent visual biographies of their subjects, according to an exhibition release. Parker strives to chronicle the lives he sees in the faces of his subjects. A believer in heroic paintings, he wants his work to "feel bold but intimate, naturalistic but expressive, to feel as vital as the subjects themselves."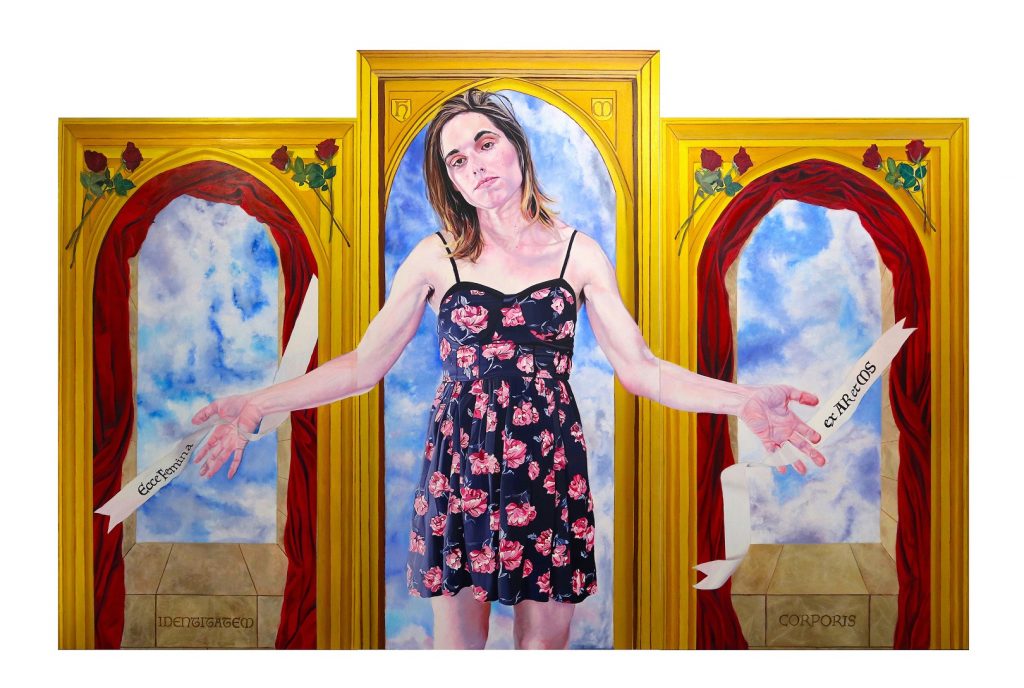 The exhibition is anchored by two massive triptych paintings, conceived as secular altarpieces. In these works, each measuring approximately eight-feet tall by 12-feet wide, Parker invokes the potency and beauty of Renaissance and Gothic religious masterworks. These detailed paintings examine the power and grace of their subjects in symbolic tableau: the bravery and radiance of his friend and fellow painter Hannah McBroom—a renowned transgender artist embracing her identity and inner strength; and his neighborhood friends—a proud, strong, weary mother gathering and protecting her three small children.
In the seven altarpieces and and five portraits comprising the exhibition, Parker creates meditations on his subjects and their all-too-human connections with us. With their scrutiny of surface and self, these canvases invite us to draw close to their subjects, closer than we might normally care to be. Parker intends them to reward our slow looking, so that we, the audience, may regard them in a profoundly fresh way and locate within them something overwhelming and larger than life.
ABOUT THE ARTIST
Ray Allen Parker lives and works in Fayetteville, but grew up in rural Egypt, Arkansas, in the northeast corner of the state. He graduated from the University of Arkansas with a master's degree in English. When he retired from corporate communications and advertising a decade ago, he began studying art and painting people. His work has appeared several times in the annual Delta Exhibition, where he is a past winner of the Contemporaries Award. His paintings were recently featured in the inaugural exhibition of the Windgate Museum of Art at Hendrix College in Conway. His work has also been selected for the International Biennial Portrait Competition in Wausau, Wisconsin, as well as the Figurativas Exhibition in Barcelona, Spain. In 2020, he was recognized by the Arkansas Arts Council with an arts fellowship for painting.