Justus Fine Art Gallery announces May exhibit
The May Exhibit at Justus Fine Art Gallery will feature new work by Virmarie DePoyster, Jeri Hillis, Linda Palmer, Gary Simmons, Dan Thornhill, and Elizabeth Weber, along with a selection of work by Robyn Horn, Charles Peer, Sammy Peters, Sandra Sell, Gene Sparling, and others. The show will open with a reception from 5-9 p.m. on Friday, May 7 as part of the monthly Gallery Walk in downtown Hot Springs. The May Exhibit at Justus Fine Art Gallery is also one of the many art events taking place during Arts and The Park, a 10-day celebration of the arts in Hot Springs. Due to COVID precautions, guests are asked to wear masks while in the gallery. The exhibit will be on display May 7-31, 2020.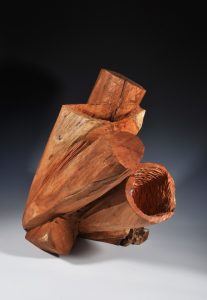 Linda Williams Palmer's intricate colored pencil drawings have been featured in numerous exhibitions throughout the U.S. and abroad. Her Arkansas Champion Tree series, which document the state's largest trees as identified by the Arkansas Forestry Commission, has traveled throughout the state and inspired an Arkansas Education Television Network (AETN) documentary "Champion Trees" that has won state, national and international awards. The documentary now shows on PBS stations throughout the United States. Palmer's book, The Champion Trees of Arkansas: An Artist's Journey published by the University of Arkansas Press, is now in its second printing.
New whimsical abstract collages by Dan Thornhill will be among the works featured in the May Exhibit. The selection of this work for the show was a nod to the collage work of George Hunt, whose contributions as an artist are being honored, along with those of musician/composer Henry Glover, during Arts and The Park. Dan Thornhill is always experimenting in his work as an artist. His paintings reflect his joyful and inquisitive spirit.
Watercolor paintings depicting Southern landscapes and figures by Gary Simmons are included in the group show, as well. Along with an extensive exhibition history and long list of both public and private collectors, Simmons also served as a respected art professor at Henderson State University for many years. He has taught numerous pen and ink workshops throughout the nation and is the author of The Technical Pen, considered a "must have" for anyone interesting in learning more about pen and ink techniques. Originally published by Watson Guptill in 1992, the book has been republished by Echo Point Books.
Virmarie DePoyster's color-rich and mixed media works have been included in multiple exhibitions. The pieces included in the May Exhibit are part of her "Holding Space" series, a response to her own attempts to process feelings of instability, unrest, disconnection, and uncertainty during the pandemic. In this work, she searches to find connection, hope, and acceptance.
New watercolor and collage paintings by Jeri Hillis, combine delicate paintings of butterflies with words, expressive marks, and collage elements into elegant compositions. Hillis' work has been included in many notable exhibits and she is also a teaching artist working with Arkansas Learning Through the Arts and other arts educational programming.
Dramatic work from Elizabeth Weber's tapestry series builds layers of color and pattern to form the rich surfaces of her paintings. Weber is both a sculptor and a painter. Her work was recently featured in an exhibit at the Galleries at Library Square with wood sculptor Sandra Sell, whose work will also be on display during the May Exhibit.
Owned by artist Dolores Justus, Justus Fine Art Gallery offers a wide range of original art including sculpture, paintings, ceramics, photography, and more by recognized artists. Opening receptions are held in conjunction with the Hot Springs Gallery Walk held from 5-9 p.m. the first Friday of every month in downtown Hot Springs. Hours are 10 a.m. – 5 p.m., Wednesday through Saturday and by appointment. Justus Fine Art Gallery is located at 827 A Central Avenue in Hot Springs, Arkansas. For more information, call 501-321-2335 or visit online at 
justusfineart.com
.
Featured image: "Treehouse and Sycamore" by Linda Williams Palmer (c)