Interview: Poet, artist and writer Danny Simmons
Danny Simmons, Jr., is a man of many talents—artist, poet, novelist and philanthropist. He co-created the HBO show Def Poetry Jam and won a Tony Award for the Broadway Version. He is also the author of the novel, Three Days As the Crow Flies, 85: A Graphic Novel and several poetry and prose collections.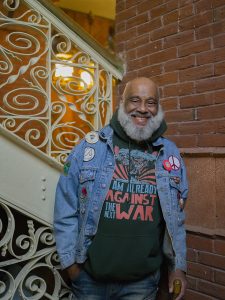 A graduate of New York University and Long Island University Brooklyn, Danny began painting while working at the Bureau of Child Support. His abstract expressionist paintings have been exhibited around the world at places such as the Smithsonian African American Museum, the Brooklyn Museum and the United Nations.
Along with his brothers Russell and Joseph "Rev Run" Simmons, the siblings have worked extensively to bridge the gap that the disenfranchised and communities of color faced in accessing the arts and exhibition opportunities through the Rush Philanthropic Arts Foundation (Rush Arts). Their Rush Education art programs provide young people opportunities for learning their craft while the Rush Arts Galleries.
On Friday, July 15, Danny is performing at Crystal Bridges Museum of American Art with musicians Vernon Reid and Dwayne Dolphin as part of the Dirty South weekend. An after party featuring his artwork will take place at CACHE Artist Studios in Bentonville.  Idle Class writer Shannon McGill caught up with Danny to discuss the wide breadth of his work.
Shannon:
So, congratulations for joining the Mural Arts (Philadelphia) board.
Danny:
Oh wow. That's all the way down there people know about that. Huh? <laughs> Thank you.
Shannon:
Well, you said the internet is the heart of the art world now. And I was able to find that out pretty quick from your Instagram.
Danny:
It was on my Instagram and on my Facebook and yeah, they asked me to join and I've done several murals for them. And when Jane asked me to join, I said, sure, why not? Sounds like something I would really be interested in doing. I believe in their mission. Art for everybody—easy access. So, that's important.
Shannon:
What do you think a good board member should contribute to, especially for like an art studio or an art gallery?
Danny:
There are all kinds of things. I've been on doing board membership for years, and I was the chairman of the New York State Council on the Arts, which gives out all the money—the best thing. Well, I'm not gonna say the best thing, but helping to finance whatever your institution is, making contributions is extremely important. Arts organizations run on money and that's for real. But the other thing is creative ideas, especially if you are a board member that is also an artist to come up with creative ideas. The things that I've been able to contribute in the past before my board membership to mural arts is access to artists that they didn't know or didn't know how to get in touch with. And my years in the arts allowed me access to artists that would embrace their mission because I asked because of our relationships over the years, instead of just somebody from an organization. So we've had some pretty great artists join the program at mural arts because I was able to introduce them to the artists. So that's an important thing.
Shannon:
So, are a lot of them local that you're finding or are you finding them out of town?
Danny:
Well, most of them have been out of town and, you know, these days, most murals, not all, but most murals are created, not on the wall, but in a studio somewhere with vinyl or painted in sections and then adhered to the wall. It's not as prominent that you will find people up on ladders painting for weeks. I've done three murals in Philadelphia and only one was actually painted with a lift. And I had a mural at the international airport—which was totally digital—was nowhere near the [final] size. They just created it. So it flowed nicely out of three different paintings, created one painting and we called it "Traveler's Mercies" since it was at the international airport. So, they can access now artists from anywhere.
Shannon:
Really. So really interesting. You mentioned, you did mention that part about the murals. Um, I lived in Fort Smith from 2009 until 2020. And when I was there, they had muralists coming from out of town and painting all over downtown Fort Smith. It's an hour away. So, you should definitely go check those out. There are a lot of great artists that they had brought in.
Danny:
Hmm. Yeah, like I said, nowadays, it's a combination of actual painting on the wall or creating scans of the art and adhering to the wall like a big billboard and it's because of the high-resolution photographs and the printing techniques. You cannot tell the difference unless you go up and touch it.
Shannon:
So I was curious about that. Like once I got an iPad and I realized you guys could actually create your art on your iPad, you could create your art on your tablets and then maybe print it out. Would that change the way art is done for you?
Danny:
Well, there was a period when I first got a Galaxy—I forgot which number it was—but that had the drawing application. I created a whole series of digital prints from drawing on my phone. But it's not the same for me anyway. It's not the same as actually the textile, the interaction with canvas and paints and all of this. You can create some really great images, but the process feels really, really different than actually painting.
Shannon:
What are you writing right now?
Danny:
I write all the time, so it's not a question of what am I writing right now. I've created one new poem for this Crystal Bridges engagement, because they have a theme around my show—a jazz club that was in the Lower East Side of New York called Slugs. And I created a poem about Slugs just for this, and I'll probably open the performance with the Slug's poem. But I'm always writing as much as I'm painting…I wake up in the morning at three o'clock in the middle of the morning and start writing. I do have a sequel to my novel in me that I've been threatening to do for the last like 10 years.
Shannon:
Which one was that one?
Danny:
Oh, my novel was called Three Days As the Crow Flies. It was published by Simon and Schuster. Oh God, maybe 15 years ago. And it's about the art scene in the eighties on the Lower East Side, when Basquiat was around and hip-hop was just blooming and all of that and a Brooklyn boy who gets caught up in that scene. And then what happened was two years later, Simon and Schuster came back to me and asked me, can we do this as a graphic novel? And so now we there's a graphic novel out there called 85, which is the same story, but I didn't do the artwork. A friend of mine named Floyd Hughes did the artwork and I redid the story to fit a comic book format. So the novel is Three Days As the Crow Flies and the graphic novel, 85, because the story takes place in 1980.
Shannon:
Okay. Do you wanna tell me a little bit about the show and everything you've got planned for your visit here?
Danny:
I thought maybe I'll do something different than me just standing there as a talking head doing poetry. I had recently done a show with bassist Dwayne Dolphin at an art center in Pittsburgh called the August Wilson Center. And we had such a good time putting doing that show, him playing the bass and me reading poetry. And I've performed with Vernon Reed of Living Colour before and programmed him with Sonia Sanchez and other people. So, the amalgamation of rock and jazz and spoken word is amazing. And of course, I have this CD out with Ron Carter, the famous bass player called The Brown Beatnik Tomes. That was the title of one of my books. Ron Carter and I have this CD on Blue Note Records that came out maybe two years ago that did really well and got a lot of critical reviews. So, you know, when I do a performance, I'd like to make it more interesting and create an atmosphere that incorporates music. It could be jazz, rock, whatever, and the poetry. And so this is what we're gonna do. We're gonna have some jazz, we're gonna have some rock, we're gonna have some poetry. We're gonna have some projected pictures of my artwork behind us. And so it's gonna be a multimedia, multidisciplinary experience. I like the way I said that.
Shannon:
<laugh> That's perfect. And I think everyone is going to love it. I know I'm really excited to come and check it out. So, you've got Rush Arts Philadelphia, and everybody comes and there's education and things like that there.
Danny:
Yeah. We have two education programs. I mean our education program, both here and the pandemic opened us up. So, we are teaching classes to kids in Jamaica, West Indies. And, of course, we are teaching classes to kids all over the country now because they're on Zoom. And we're able to reach more kids easier with this Zoom thing. We are having a wonderful experience relating to these kids online. We are not quite ready to go back into the classroom with a bunch of kids, especially when COVID is still…people think it's, well, I don't know if they think it's over, but people are behaving like it's over. And I'm reading every day, how we have a new strain and, you know, people are being affected at alarming rate. And so we are still being cautious, at least with our kids and having our classes virtual.
Shannon:
Will you tell us who Two Dick Willie is?
Danny:
Two Dick was a character for…my book of The Brown Beatnik Tomes. And, I got it from a friend of mine who was a comedian, and I went to one of his comedy shows and he was talking about Two Dick Willie, a magician…This is my boy Al Crosby who had a stroke and is now in the nursing home for the last three years, unfortunately. But I went to a comedy show that Al did, and he was talking about Two Dick Willie's sleight of hand. And the name just stuck with me. So I incorporated him in a poem in my book, The Brown Beatnik Tomes…I said, I'm gonna write a whole book about Two Dick Willie. And so I did, well, the whole book isn't about him, but he's part of he's definitely part of the lexicon.
But it's really not a sexual reference. It's more of a reference of Black people having to have two faces and two personalities in order to survive here in America. So, you got this guy on one hand in our community, and then when he goes out into the world to interact with other people, he becomes another person. And, you know, got the left brain and the right brain.
Shannon:
That makes a lot of sense. So you're coming down to a state that is less than 20 percent Black. I know the representation is pretty low here. Fayetteville's pretty small. And, I'm actually from Tulsa and my cousin has a Black owned gallery called No Parking Studios. And he did, he did work with Black Wall Street and Fire in Little Africa. So for me, I struggle with the fact that Arkansas won't reach having something like that of Black Wall Street. I would love to see Arkansas have like an uprising like that. Especially like the way it's going in Tulsa. I can't wait to contribute to it. What would you wanna say to the Black artists that are living here in this space, who are being funded entirely…by money from white businesses?
Danny:
Well, in order to answer that question, I have to take you back to Rush in the beginning. When I started in 1990…there were no Black galleries in New York, but maybe one or two. And I said in order to do this, in order for Black people to show up, we have to create our own galleries. And I basically started this journey out by putting art on the wall in Russell's business, Def Jam [Records] when he first opened the Def Jam offices. And for years I had the Def Jam Art Show. And then from there Russell helped me finance a gallery called Sanctuary Gallery, which basically was the ground floor of my brownstone and I gutted it out except for the kitchen.
My wife wouldn't let me get the kitchen out at the time. And, I created a gallery called Sanctuary Gallery. And you could see why the name would be Sanctuary Gallery because it was a sanctuary for us, which then morphed into Rush Arts a few years later when we raised some money, my brother Run and Run DMC performed at a benefit concert. We raised $250,000. And now here we are 27 years later. So, I mean, in order to have an art show, in order to create an art community, you just need walls and a bottle of win—definitely need the bottle of wine. And so this can happen anywhere you do. Funding is also very necessary and I'm largely funded these days by artists. And so I just raised $20,000 right now on a social media campaign from people just wanna see Rush Arts exist.
And last year we raised $85,000 from artists donating pieces and we were selling them online. And, you know, so there is such a thing as self-sufficiency. And so we can do this. If somebody takes the initiative, the building that we are in, when I sold my brownstone in Brooklyn, I bought a house [in Philadelphia]. And then I bought a building for Rush to be in that didn't have to pay a whole lot of money because I renovated it. So I bought an old bank and renovated it and turned it into an art place.
It's nice to have people back us, but this is something we can do on our own. We don't necessarily need other people's money in order for us to prosper and survive and create our culture and show our culture to each other. We just need other artists, who want to see us grow, artists who wanna show…and we need people who are willing to put into work because of the culture, because it needs to be done. You know, not everything you get paid for immediately, not everything you get paid for in dollars. So sometimes you get paid for in the progress that you see made in our communities. Sometimes you get paid for it in art. We can do this on our own. And I say that to other artists. I was an artist who created an organization because it was needed.
Shannon:
And there's always gonna be a need.
Danny:
There's always gonna be a need.
Shannon:
So your advice to any artist is to use your resources…
Danny:
Use what you have get together with other artists and just do this and create an art show. People will come, people will buy stuff. You know, if somebody else can sell your art, we can sell our own art, too. Or somebody else can put on a performance, we can do it too.