Hot Springs comes to NWA as Low Key Arts takes over Stage 18 in Feburary
For the month of February, Sonny Kay designer, artist, and new executive director of Low Key Arts space in Hot Springs will display work at Stage Eighteen, located at 18 E Center St in Fayetteville, and be available for a book signing from 6-8 pm on Feb. 2. After the opening reception, Hot Springs band All the Way Korean will join Fayetteville band Whoopsi for a live show starting immediately afterward. All ages, $5 for the music.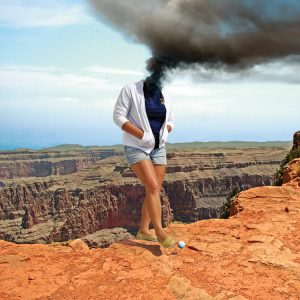 Sonny Kay's artwork has adorned the album covers of RX Bandits, The Locust, The Mars Volta, De Facto, and many others. Kay constructs his semi-realistic digital collages of largely found objects, including old postcards, thrift store books, and "treasures from the internet". Kay says the result should not overwhelm the senses with cacophony of impressions, but momentarily suspend the viewers belief with a hypothetical version of reality. He has previously focused on a musical career; he fronted the pioneering hardcore bands Angel Hair, and The VSS. Kay also founded the independent record label Gold Standard Laboratories.
In 2016, Kay relocated to Hot Springs to take over Low Key Arts as their Executive Director.  Kay will curate events and programming for Low Key Arts, and The Valley Of The Vapors Music and Arts Festival.
In 2017, Robot Enemy Publications issued the first book of Kay's work, entitled HEADSPACES: Surrealistic Album Art & Collage. Packed with nearly 200 images, it's an exhaustive collection of high-definition, mind-bending collage art new and old, featuring many previously unpublished works, and of course, covers to a lot of albums. The accompanying exhibit version of HEADSPACES consists of large-format prints of some of Kay's most recognized works, as well as a bounty of related ephemera: concert posters, gatefold LP jackets, colored vinyl, and even t-shirts.