Your FORMAT Festival Guide to Arkansas Artists and Musicians
The city of Bentonville, Arkansas, comprises bike stores, a coffee shop on every corner, and some of the best cuisine in the state. This weekend, the city is offering a vibrant art and culture experience, the biggest and best the city has ever seen.
FORMAT Festival is a three day and night multidisciplinary experience taking place in the Ozark mountains, combining music, art, and technology taking place from Friday to Sunday. The creators behind this festival present globally renowned musicians and artists right to our backyards, including The Flaming Lips, Phoenix, Herbie Hancock, and Thundercat, and did not forget about the beloved local musicians in the lineup. Several local artists and musicians are taking the stage throughout the weekend, including Honey Collective, The Phlegms, and Amos Cochran.
Honey Collective Friday at noon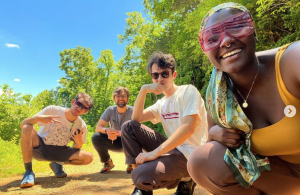 Honey Collective is a band from Northwest Arkansas scheduled to perform on Friday at FORMAT with Leah Grant and NWA rapper, Baang. Aricka Lewis, vocals, Jordan Strickland, keys and guitar, Walter Ferguson, drums, and Matt Magerkurth, bass, all grew up in Fayetteville, and gained their name after being influenced by Arkansas nature. The band, now based out of New York City, infuses jazz, hip-hop, and soul to create a world of smooth sound for listeners. The collective, as they often title themselves, is heavily grateful to be involved in a festival at this scale, especially since it takes place near their hometown, Lewis said.
"This is a big step in the right direction for the NWA music scene," Ferguson said. "I think the diversity of the lineup is really inspiring, and I think there's a lot of different types of music being represented."
The band released a new single on Thursday, Sept. 22, titled "Memento," and will release additional music later this year. They are set to play their single at the set on Friday, Ferguson said, along with other unreleased music. You can find more information about Honey Collective's tour schedule, merch, and upcoming news on their Instagram, @honeycollectivemusic or online at hnyrecords.com.
The Phlegms Saturday

Another Fayetteville-based band is making their big-festival debut at FORMAT. The Phlegm's are a longtime Northwest Arkansas band scheduled to perform Saturday. Avery Lee, lead vocals, Grant Williams, drums, Peter McKitrick, guitar, and Aaron Brymer, bass, have made a name for themselves in the area, performing at Fayetteville long-term DIY spaces like Backspace, La La Land, and more. The group released their latest album, Spit, in October 2020 and a single, "Filtering," in February 2021. The band, who titles themselves a punk quartet, combines eccentric and conceptual lyrics, along with Lee's bombshell lead performance, making The Phlegm's a local band to be sure to watch at the festival. Fans can buy merchandise or view the band's information on Instagram, @Phlegms_, where one can find links to their YouTube, Facebook, Spotify, and contact information.
Amos Cochran Saturday in The Cube at 2:30 p.m. and Sunday in The Cube at 5:15 p.m.
Along with good ol' fashion styled bands, local Emmy-nominated composer and sound artist, Amos Cochran will be making an appearance on both Saturday and Sunday of the festival. Cochran was born and raised in Fayetteville, making him immensely more appreciative to be included in the lineup at FORMAT, he said. His work comprises classical music, installations, films, and dance. His main form of composition is a combination of piano and electronic synthesizer. Saturday, Cochran is set to perform alongside Italian hypnotherapist, Betony Vernon, in which the duo will touch into an audience members' musical data in their brain, he said.
"We're going to be hypnotizing someone and using their brain waves to help collect musical data that I'm manipulating in real time with a computer and synthesizer to create the sound that everyone will be hearing," Cochran said.
Cochran has played at multiple venues in and around Northwest Arkansas, including Crystal Bridges, Mt. Sequoyah, and Cache Studios. Often, you'll find him in Fort Smith, working beside his project, Arcade Now, where he is the creative director. The project, which Cochran describes as a two-day combinational music experience of classical, electronic, experimental and ambient, offers experimental music a place to thrive. It is to be debuted November 11 and 12 in Fort Smith where he is including different NWA artists in the experience, such as Baang, a string quartet from Oklahoma, and more.
Additionally, Cochran is set to release three albums in the next six months, he says. You can find more information about Cochran's upcoming work on his Instagram, @amoscochran, or on his website, amoscochran.com. (Photo by Bryan Stafford)
Christian Serrano-Torres Sunday in The Cube at 5:15 p.m.

On Sunday, Cochran is taking the stage with cellist, Christian Serrano-Torres. The two have played together in the past, Cochran said, and the combination of their instruments created a sound Cochran did not want to walk away from. They are performing a new piece of music on Sunday evening, adding in their past work beneath it, stretching it out, and making it more experimental for the festival, Cochran said. On Serrano-Torres' website, it states, "transcending the ideals of what music should be, [Serrano-Torres] creates magical wonder with the voice of his cello."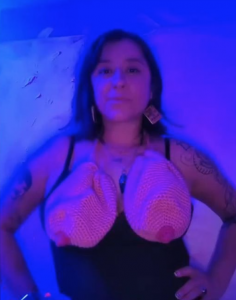 Kat Wilson in the Bizarre Bazaar all weekend

Not music, but wearable art! Kat Wilson, a local experimental artist, collaborated with local crochet artist, Tina Oppenheimer to create Titty Bags, which Wilson describes as a spectacle, feminist, and gender non-conforming wearable art. Titty Bags are designed to be able to hold all your festival necessities- keys, tickets, makeup, you name it. The work of Wilson ranges from exuberant photography, paintings, and installations. At FORMAT, Wilson will debut her Titty Bags project starting Friday with an interactive #selfiethrone, a selfie throne lined with neon lights and crafted by local artist, Derrick Maxey.
"I want to give festival visitors from around the world a little something weirdly Arkansas to experience and take back home, some camouflage and a deer felt fitting," Wilson said.
The #selfiethrone will be located in the Bizarre Bazaar, a maze of uniquely curated retail, food, and beverage vendors. A space for discovery and curiosity, ranging from performance stands, limited edition artist collaborations, unusual workshops, quirky concept shops, strange and wonderful objects and collectibles, local vendors and pop-ups and festival merch, the FORMAT website states. To obtain a Titty Bag prior to the festival, grab one at Pink House Alchemy or their online store. Find out more about Wilson and Oppenheimer's creation on Instagram, @katwilsonartist.