Crystal Bridges Museum of American Art announces debut of spring exhibition "Crafting America"
Crystal Bridges Museum of American Art recently announced the debut of the spring makers and crafting-focused exhibit Crafting America, which will be on view Feb. 6 to May 31.
Crafting America is the first exhibition at Crystal Bridges dedicated to the subject of modern and contemporary craft. With over 120 objects made from materials such as wood, glass, fiber, ceramics, and metal from 98 American artists, the exhibition tells a broad and inclusive story of craft in the United States from the 1940s to today. Crafting America was co-created by Crystal Bridges's associate curator Jen Padgett and Glenn Adamson, guest curator and scholar of craft, design history, and contemporary art. After it closes at Crystal Bridges, the exhibition will travel to the Jule Collins Smith Museum of Fine Art at Auburn University, June 29 through Sept. 12.
"At Crystal Bridges, we strive to explore the unfolding story of American art, and this exhibition highlights the technical skill and beauty of making in the America," said Rod Bigelow, executive director and chief diversity and inclusion officer. "We know Crafting America will surprise and delight audiences with the creativity and innovation, and we're excited to build on our everyday connections with craft through the exhibition, programs, and engagements."
The exhibition is organized into four parts: Introduction/What is Craft, Life, Liberty, and the Pursuit of Happiness. It explores the concept of craft and how closely craft is intertwined with the American experience; how artists shape the objects of daily life; the history and innovation that led to expressive forms of craft; and how the process of making celebrates the quality and materiality of craft.
"There are many different ways to look at craft, but for our purposes, craft is skilled making on a human scale," Padgett said. "This exhibition allows us to tell a more expansive story about American art because craft has long been an accessible art form for women, people of color, immigrants, Indigenous peoples, veterans, and other marginalized communities. This exhibition highlights a range of mediums and explores how artists have engaged with and reinvented traditional ways of making."
A deeper look from the curators into each featured medium 
Ceramics: While Toshiko Takaezu was a multidisciplinary artist, her best-known works are enclosed ceramic forms, ranging in scale from the size of a hand to over 6 feet tall. A grouping of eleven ceramic sculptures by Takaezu are featured in the Contemporary Art Gallery near works by abstract painters including Joan Mitchell and Helen Frankenthaler.
Fiber: Sheila Hicks pushes the boundaries of scale and form to explore the gestural possibilities of fiber. For Mandan Shrine (2016), Hicks wrapped bundles of linen with bright, multicolored thread at rhythmic intervals, creating a sculptural ebb and flow between the tightly bound sections and the loose, organic linen lengths.
Glass: Artist Andy Paiko cre­ates reliquaries from glass, sometimes left empty, sometimes filled with handmade "specimens" evoking those of a historic curiosity cabinet, as seen in Reliquary Group (2020).
Metal: Artist Hoss Haley began tinkering with metalsmithing at a young age in his father's tool shed on the family farm in Kansas. Haley's coil sculptures reveal the capabilities of steel, as the joined metal of his works such as Architectural Coil Maquette (2011) create a ribboning effect.
Wood: Wendell Castle's Chest of Drawers (1962) is an unconventional cabi­net with twisting tendrils crawling up it, which cleverly serve both as legs and drawer pulls. It is an early example of the artist's break from the standard woodworking formats to explore free space.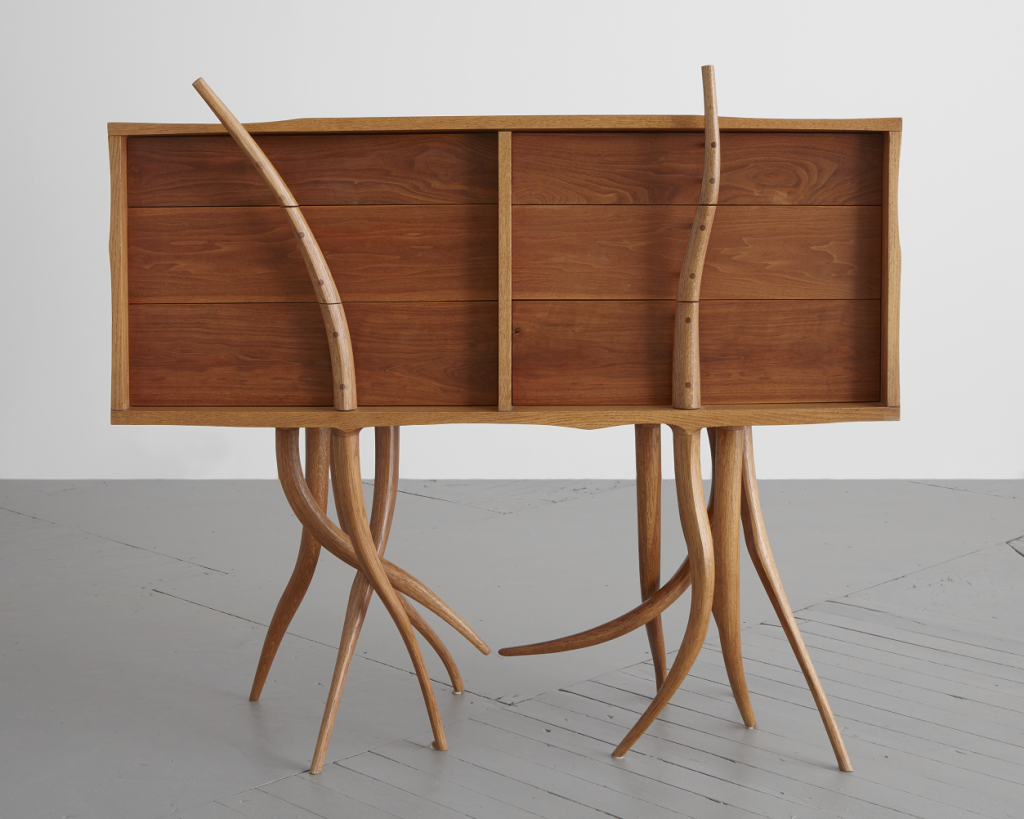 "Crafting America explores the diversity of craft, which has too often been marginalized," Adamson said. "The exhibition asserts that skilled making or craft can embody our unique traditions, identities, and values, and is critical to understanding the complexities of the American experience … In edition to the ethnic diversity of the show, it's strikingly diverse in geography. Craft really is everywhere."
Timed tickets are available here for $12, and admission is free for members, Supplemental Nutrition Assistance Program (SNAP) participants, veterans, and youth ages 18 and under. SNAP participants can call 479-657-2335 to enroll for free entry to temporary exhibitions.
New Acquisitions:
Diedrick Brackens, a year of negotiations (2019): Diedrick Brackens weaves tapestries that exist between figuration and abstraction, often engaging with histories that resonate with his experience as a gay Black man in the United States. a year of negotiations (2019) comes from a series Brackens made to reflect on how animals have often functioned as symbols across time and artistic disciplines.
Anne Lemanski, Tigris T-1 (2018): Just over 5 feet tall, Anne Lemanski's Tigris T-1 (2018) features a tiger balancing skillfully on a colorful ball. To create the tiger, Lemanski first fashioned a metal framework, then stitched specially printed paper to cover the form. With this work, Lemanski addresses deeper themes around power: the mighty, threatening predator made obedient to the desires of human handlers. The work was generously gifted to the museum by Fleur S. Bresler, a leading collector of American craft.

Beth Lipman, Belonging(s) (2020): Wisconsin-based artist Beth Lipman is well known for her detailed works made entirely of glass. In conjunction with Crafting America, Crystal Bridges invited Lipman to respond to a set of eighteenth-century paintings in its collection attributed to the artist Gerardus Duyckinck I. These paintings depict three genera­tions of a single family who lived in New Amsterdam (the Dutch colony that preceded New York), anchored on the figure of Abigaill Levy Franks.
Lipman's response to the portraits, titled Belonging(s), addresses the theme of migration head-on. The sculpture is in the form of a traveling trunk, and by render­ing it in clear cast glass, she allows viewers to see into its interior. Objects that could be associated with the Levy Frankses' trade and travel have been placed in the interior, such as cacao pods, domestic textiles, religious artifacts, assorted ves­sels, and chains—all fabricated in glass and developed in response to research into the experiences of Abigaill Levy Franks and her family in a unique act of commemoration. This work is featured in the Early American Art Gallery next to the Duyckinck portraits by which it was inspired.
Crafting America also puts works from the Crystal Bridges collection in conversation with the broad story of craft:
Inspired in part by wire basket-making in rural Mexico, Ruth Asawa created hanging woven sculptures, such as Untitled (S.028 Hanging Four-Lobed Continuous Form within a Form), for which she is now celebrated.
Chicago-based artist Nick Cave, who was recently featured at the Momentary in Nick Cave: Until, is well known for his Soundsuits, full-bodied suits made of textiles and found objects that serve as tools of liberation.
Windgate Curator of Craft
In November 2020, Crystal Bridges announced a $17.5 million gift from the Windgate Charitable Foundation to advance the field of craft through the hiring of a dedicated Windgate Curator of Craft, research, programmatic support, as well as an acquisitions fund to bring craft objects into the museum's permanent collection. With this support, Crafting America will set the stage for this endeavor into further engagement with craft.
"By foregrounding craft across the institution, we will continue to tell more complex and rich stories about the diverse range of creative work in the country," Padgett said.
Engagements
In addition, the museum offers engagements to provide access to more art experiences:
Share Your Craft Story – Share Your Craft Story, a new project developed by Crystal Bridges for this exhibition, collects stories about personal connections to craft objects. Anyone can submit their story by visiting the Crystal Bridges website here. A selection of these stories is shown in the exhibition gallery.
Family Guide – The exhibition is accompanied by a family guide that visitors are welcome to pick up at the exhibition entrance. The guide explores each section through discussion questions, close-looking prompts, and writing/drawing activities.
Introduction Video – Two monitors placed at the exhibition's entrance highlight a selection of artists featured in Crafting America talking about or making their work.
Catalog – Crafting America is accompanied by a full-color catalog, published by the University of Arkansas Press and available for purchase in the Museum Store.
Virtual Exhibition – Crafting America will also be accompanied by a virtual exhibition experience, allowing viewers to explore the exhibition from their computer or personal devices. A similar virtual experience was released in 2020 to accompany the State of the Art 2020 exhibition. The virtual exhibition is scheduled to launch in Spring 2021.
Opening Week and Programming
The opening week of Crafting America includes a digital opening exhibition lecture and member preview. Crystal Bridges will also be offering a new, virtual program series called Crafternoons, held weekly for the duration of the exhibition. In this series, hosted by local craft artists, visitors are encouraged to bring their own creative projects and connect virtually with friends. Hosts will share stories and tips as they discuss their current projects and the role that craft plays in their friendship and community. Exhibition programs include:
Member Preview » Crafting America, 11 a.m. to 9 p.m. Friday, Feb. 5
Digital Opening Exhibition Lecture » 7:30 to 8:30 p.m. Friday, Feb. 5
Spotlight Talk » Artist Joyce Scott,  7 to 8:30 p.m. Thursday, Feb. 11
Virtual Art by the Glass » Handmade and Digital Textiles, 6:30 to 7:30 p.m. Friday, Feb. 19
Spotlight Talk » Artists Josh Faught and Diedrick Brackens, 7:30 to 8:30 p.m. Friday, Feb. 19
Crafternoon » every other Tuesday, 1 to 2 p.m. Feb. 23- May 4
Spotlight Talk » Artist Ben Venom, 7 to 8 p.m. Thursday, Feb. 25
Visit the Crystal Bridges calendar for the latest information on programs, offered both on-site and virtually.
For a complete list of current exhibitions, visit here. For news updates, follow Crystal Bridges on the Blog, Facebook, Instagram or Twitter.
Crafting America is sponsored by The Windgate Charitable Foundation (Lead Sponsor), Blakeman's Fine Jewelry, Phillips, and Morris Foundation, Inc. Crafting America has been made possible in part by a major grant from the National Endowment for the Humanities: Democracy demands wisdom. This project is supported in part by an award from the National Endowment for the Arts.