The Collaborators: Blake Worthey and Amos Cochran discuss their piece "Trapeze"
INTERVIEW / KODY FORD
PHOTOS / LAUREN RAE
If you made it to the 2019 Black Apple Awards, chances are you stood rapt with attention during the performance by dancer Blake Worthey and musicians Amos Cochran and Miranda Baker-Burns. This breathtaking piece quieted the room at TheatreSquared. Cochran scored and Worthey choreographed this original work for the awards show.
Cochran is an Emmy-nominated composer, musician and sound artist. His compositions for film, theater, radio and television have received many honors, including a 2010 Kennedy Center Excellence in Composing Award and a premier at the 2017 Sundance Film Festival. In 2019, he was commissioned by Crystal Bridges Museum of American Art for their groundbreaking outdoor exhibition Color Field and selected by global creative house JustKids to be an official artist of the award-winning Unexpected urban and contemporary art festival in Fort Smith. Worthey is a theatre artist from Memphis. His work primarily deals with the theatricality of life and the oddity that is "theatre". He has been fortunate to travel to place like Vancouver, B.C., Italy and New York City through dance. We spoke with both of them about coming together to create this piece. (Watch the full video below.)
Tell me about the collaborative process between you guys.
AC:  In November 2018, I met Blake at an artists' gathering and started a conversation about collaborating on some kind of piece that was "reactive"—having moments where the music started or stopped based on the movement, and vice versa. Now and then we would revisit the idea but never moved forward with anything, because who books a venue for a seven-minute piece? When the opportunity to perform at the Black Apple Awards came up it made perfect sense. I sent Blake a rough recording of the piece, we scheduled two rehearsals and that was about it. We talked very little in regard to what we wanted the piece to be as a whole. I wanted Blake to have full say in what he was going to do, outside of the original concept of it being "reactive" we didn't talk about it at all. Our conversations were more about the character he was bringing to the piece. I found it really neat that he was not approaching things from a dance point of view, but with a theater perspective. Things just worked.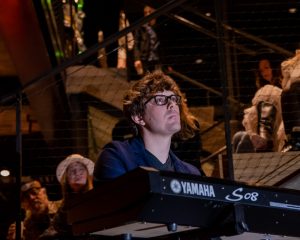 BW:  I don't feel anything when I choreograph because I don't want to be precious about it, especially in the beginning. I think being precious can get in the way of creative. This was especially the case with in the work with Amos because the time was shorter than I was used to so whatever movement came out was what came out. I decided to then focus on the content and the character doing the movement to make the work rich. I decided that how I did things and the world I was in was more important than what I did. Amos and Miranda were a pleasure to work with. There was generosity and clarity and laughter. There really isn't anything I could ask for. And I think that translated into the performance itself. The audience seemed to feel a thing or two and for me that's all I could ask for.
Did you solely compose the music or did Miranda work with you on that?

AC:  Yes, I wrote all of the music that Miranda plays. Those are only notes on a page though. Her interpretation and the way she chooses to present them on the violin is what makes it magical. This piece was actually one of the first thing I ever wrote back in 2011 as part of a theater show. It has always hung around though, used now and then for films and something I would play at home. When Miranda and I played for the first time in February at the Trillium Salon Series this piece was a last minute addition. I played it for her after a rehearsal and she said "Cool, can you write something for me to play?" I wrote her part the week leading up to the show and it has since completely transformed the song. We closed that show it and had a pretty amazing reaction.
Do you feel like Blake brought the composition to life?
AC:  What Blake brings to the piece makes it live in a very different light, or space. His addition takes it away from being just a concert piece and transforms it into a much more interactive and visual experience. I like the piece living in both worlds, it is also nice as a solo piano piece. But the depth, intensity, and pacing he brings to the table makes it feel like something brand new for me and perhaps more exciting for an audience. I love letting the music take more of a backseat, while creating a space in which his movements tell a story that could never be told with music alone. It is truly amazing when other artists allow you to see your own work in a new light. Collaborating with Blake has done just that and it is very exciting for me as an artist and human being.
What do you love about dance?
BW:  I really love dance as a form because it gives us a safe space to practice important things like consent, like being honorable, like sharing a smile, like communication, practices that aren't as readily available to us in our pedestrian lives. We can practice them in dance so we CAN do them more readily in our pedestrian lives. There's also a kind of honesty in dancing that only dance has and it's so nice. It's so nice to bask in that. If even just for a moment at a time.