The Atlantic Correspondent James Fallows to Give CALS Distinguished Lecture
The Central Arkansas Library System (CALS), in partnership with the Clinton School of Public Service, will host acclaimed journalist and author James Fallows to give the Heiskell Distinguished Lecture, Thursday, September 27, 6:30 p.m. at the CALS Ron Robinson Theater, Library Square, 100 Rock Street. Fallows will discuss his book (co-written with his wife, Deborah), Our Towns: A 100,000-Mile Journey into the Heart of America, an account of his cross-country journey with his wife in a single-engine prop plane where they visited dozens of towns and met hundreds of people. Our Towns is the basis of a forthcoming HBO documentary. The event is free, but registration is required at www.cals.org.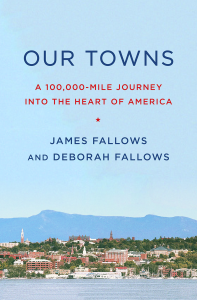 Fallows was the chief White House speechwriter for Jimmy Carter, former editor of US News & World Report, and has been a national correspondent for The Atlantic since the late 1970s.
He was raised in Redlands, California, but has lived in cites around the world, including Seattle, Berkeley, Austin, Tokyo, Kuala Lumpur, Sydney, Shanghai, and Beijing. Fallows received his undergraduate degree in American history and literature from Harvard and a graduate degree in economics from Oxford as a Rhodes Scholar.
Fallows won the National Magazine Award for his 2002 story "Iraq: The Fifty-First State?" warning about the consequences of invading Iraq; he was a finalist four other times. He also won the National Book Award for Nonfiction for his book National Defense and a New York Emmy Award for the documentary series Doing Business in China.
The Heiskell Distinguished Lecture is named for J.N. Heiskell, the longest-serving member of the CALS Board of Trustees and editor of the Arkansas Gazette for more than seventy years.  Speakers and programs honor Heiskell's commitment to excellence in journalism as well as his support of the library.