Arts One Presents announces "Humongous Fungus: A Colossal Crochet Creation" by Gina Gallina
Interactive Magical Crochet Garden Installation Coming to Shiloh Square in Downtown Springdale on April 15 Through Fall 2022
Arts One Presents is bringing "Humongous Fungus: A Colossal Crochet Creation," a large-scale magical crochet garden installation, in Walter Turnbow Park in downtown Springdale by local artist Gina Gallina.
A larger-than-life-size experience, "Humongous Fungus" is composed of over 1,300 crochet squares, made by Gallina with one hook. The installation took over 1,100 hours to complete and weighs approximately 350 pounds. "Humongous Fungus" was modeled after one of the most iconic toadstool mushroom species, Amanita Muscaria, commonly known as the fly agaric or fly amanita. The structure was fabricated by local artist Eugene Sargent.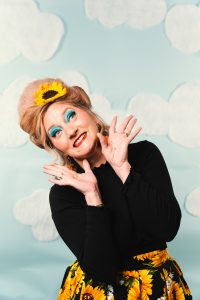 "Humongous Fungus" is free to attend and the public is invited to engage and interact with the installation. Installation is scheduled for Friday, April 15 throughout the day and will be on display through Fall 2022.
Anne Jackson, Executive Director of Arts One Presents, said, "Gina's work is fun, playful and invites interaction and a sense of wonder. We are excited to see how the community engages with this work and how memorable experiences are created through art in downtown Springdale." –
Artist Statement:
"Feeling Small While traveling in 2006, I was able to visit the Giant Redwood Forest in California. I remember how tiny I felt in comparison to my surroundings, and the idea of driving a car through the trunk of a Redwood tree was surreal, like I was in a magic garden. While developing the idea of this piece, I recalled the feeling of being small and wanted to recreate that experience for others. Sharing this magical crochet garden is my way of saying to the community, "Hi – I've been wanting to meet you! Nice to see you!" When people walk through "Humongous Fungus," I want them to pause in that moment and have a fun experience that reminds them of endless possibilities.
"My Italian grandmother taught me to crochet bibs when I was eight years old. She crocheted bibs and hats for kids, and that's how I learned. It was a craft of work, a fiber creation filling a need. I enjoyed both the process and the end result, and now describe myself as a crochet addict. As I grew as an artist, I learned that with some time, most anything can be built with just one hook, connecting one single stitch to another single stitch, creating something that is bigger than life. I still crochet practical items now, but also strive for the ultra-imaginative, the exaggerated, and the move beyond useful in my creations. Crochet allows me to process and connect to reality."
About Arts One Presents:
Arts One Presents empowers artists, enriches business, and engages community through accessible and inclusive visual and performing arts experiences. Through collaborations with artists and businesses in the Northwest Arkansas area, Arts One Presents offers public art experiences, community theater and programming. Visit them online at artsonepresents.org, like and follow on Facebook and Instagram.
Photos courtesy of Global Image Creation