Arkansas PBS wins three Mid-America Emmy Awards for documentary, lifestyle program and digital segment
Arkansas PBS won three regional Emmy Awards from the Mid-America Chapter of the National Academy of Television Arts and Sciences (NATAS) Saturday, Nov. 21, from eight total nominations this year. The six nominated productions, including the three winners, are available in a new playlist on the Arkansas PBS YouTube channel.
"It is an honor to be recognized for telling the rich stories from our great state," Arkansas PBS CEO Courtney Pledger said. "These Emmy Awards represent the passion and dedication of our staff and the amazing work they do every day. Congratulations to all who contributed to these winning productions. Our work is a true team effort."
"Men & Women of Distinction: Mike Beebe" won Director – Non-Live (Post-Produced). This film examines the life of the Honorable Mike Beebe, a product of Arkansas, born in a tar paper shack in Amagon. Beebe rose from his humble beginnings to practice law in Searcy and run for Arkansas Senate – where he was first elected in 1981 and served for 20 years – followed by successful runs for attorney general (2003-2007) and, finally, governor (2007-2015). Directed by Kathryn Tucker, "Men & Women of Distinction: Mike Beebe" was produced by Arkansas PBS and Kathryn Tucker with supervising producer Casey Sanders of Arkansas PBS and edited by Les Galusha of Galusha Creative LLC. The film was also nominated in the categories of Documentary – Historical and Editor – Program.
"A Garden Home Christmas" won Lifestyle Program – Program/Special. In this original Arkansas PBS holiday special, television host, author and lifestyle expert P. Allen Smith and floral creative designer Holly Heider Chapple offer inspiration for the holiday season from Smith's Moss Mountain Farm in Roland, Arkansas. The one-hour program features a vision for holiday cooking, decorating and entertaining with family and friends. "A Garden Home Christmas" was produced by CJ Burks, Brent Walker and Patrick Green. "A Garden Home Christmas" will air on Arkansas PBS Saturday, Nov. 28, at 10:30 a.m.
"As a fan of renowned Arkansan P. Allen Smith, it is an honor to share this Emmy win with his team and Arkansas PBS," Burks said.
"Hazel Walker's Arkansas Travelers" won Historic/Cultural – Program Feature Segment. Arkansan Hazel Walker was the only woman ever to own, manage and star for her own professional basketball team. For 16 seasons – from 1949 to 1965 – her Arkansas Travelers barnstormed the country playing only men's teams under men's rules with 80-85 percent of their games ending in Travelers' wins. "Hazel Walker's Arkansas Travelers" was produced by Charles Eric White.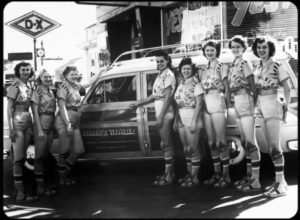 "I am honored to have been given the opportunity to help tell an often overlooked part of Arkansas history," White said. "Because there is not a lot of footage available of Hazel Walker and her Arkansas Travelers, hand drawn animation became a necessary tool to help convey their fun and tenacity.
"Thank you to former Arkansas Traveler Francis Garroutte and writer Gary Newton for sharing their stories with us and all of Arkansas."
Other Arkansas PBS nominations included:
"Friday Night Fordyce" in the category of Sports – Program Feature/Segment. Tucked away amid the pines in south central Arkansas is the small town of Fordyce (population 4,300). Renowned for detaining The Rolling Stones in July 1975, Fordyce is also a place of football tradition as the birthplace and childhood home of famed coach Paul "Bear" Bryant. Home to Arkansas's first high school football program, the town of Fordyce fills its Paul "Bear" Bryant Stadium on Friday nights to cheer on their Redbugs. "Friday Night Fordyce" was produced by Kevin Thomas Clark.
"The Nudie Devotee" in the category of Arts/Entertainment – Program Feature Segment. From Porter Wayne Wagoner to Elvis Presley to Gram Parsons, Nudie Cohn outfitted the stars with elaborate, typically rhinestone-studded suits. This digital short details their incredible history with Arkansas collector Neal Pendergraft filmed at the Fayetteville Roots Festival. "The Nudie Devotee" was produced by Casey Sanders and Charles Eric White.
"Tackling Cancer" in the category of Human Interest – Program/Special. After the loss of his mom to cancer, Conway High senior linebacker Reed Hughes shares how he is tackling books, sports and keeping his mom's memory and fighting spirit alive. "Tackling Cancer" was produced by LaShuan Vaughn, Tracy Prince and Charles Eric White.
The NATAS Mid-America chapter, which includes television markets primarily in Arkansas, Illinois and Missouri, was chartered in 1962 and began honoring outstanding achievement in this region with local Emmy awards in 1976. The organization's mission is to encourage excellence in the television community.
Arkansas PBS, Arkansas's only statewide public media network, enhances lives by providing lifelong learning opportunities for people from all walks of life. Arkansas PBS delivers daily, essential, local, award-winning productions and classic, trusted PBS programs aimed at sharing Arkansas and the world with viewers through multiple digital platforms, including livestreaming at myarkansaspbs.org/watch, on-demand services and YouTube TV, and the distinct channels Arkansas PBS, Arkansas PBS Create, Arkansas PBS KIDS, Arkansas PBS WORLD and Arkansas PBS AIRS on SAP. Members with Arkansas PBS Passport have extended on-demand access to a rich library of public television programming. Arkansas PBS depends on the generosity of Arkansans and the State of Arkansas to continue offering quality programming. Additional information is available at myarkansaspbs.org. Arkansas PBS is broadcast on KETS (Little Rock), KEMV (Mountain View), KETG (Arkadelphia), KAFT (Fayetteville), KTEJ (Jonesboro) and KETZ (El Dorado).