Arkansas Cinema Society to screen THE SEND-OFF with writer/director John-Michael Powell
The Arkansas Cinema Society (ACS) and the Arkansas Museum of Fine Arts (AMFA) are excited to host Little Rock native John-Michael Powell for a special screening of his feature debut, The Send-off, at AMFA, located at 501 E. 9th St, on Thursday, July 6th. Admission is $15. Doors open at 6 p.m. and the show starts at 6:30. A Q+A with Powell will follow the screening. Tickets can be purchased online or at the door.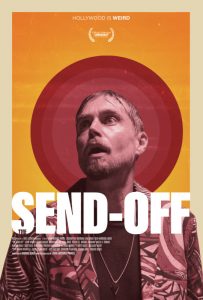 The Send-off won the Audience Award for Feature Film, and Powell received a Panavision New Filmmaker Grant during Filmland 5 last fall. He is excited to return to his hometown and showcase his work.
"Growing up in Little Rock, I lived on a steady diet of VHS rentals and haunting places like Juanita's and Vino's for culture," Powell said. "At the time I didn't realize it was that, but looking back those experiences shaped the filmmaker I am today. Being asked to return to Little Rock and share my work is both an extraordinary honor and a reminder of how much my Arkansas roots mean to me as an artist."
The tale of a Hollywood star's last ride, The Send-off is written and directed by Powell. The film stars Zachary Ray Sherman, Lena Drake and Sean Harrison Jones and is produced by Glen Howerton (It's Always Sunny in Philadelphia), Vincent Sieber (The Chronicles of Narnia) and Undine Buka. The synopsis reads: "When Emmy Award winning actor, Dan Richards, throws an impromptu soirée at his Hollywood home with only his closest friends in attendance, a fun evening devolves into something much darker after Dan makes an unexpected announcement to the group."
Each year, Filmland: Arkansas showcases feature films and shorts by professionals and students who currently live in Arkansas or have connections to the state. Kody Ford, ACS Director of Outreach and Statewide Programs, believes that Filmland: Arkansas is a valuable addition to Filmland programming.
"Filmland: Arkansas is one of our most popular programs each year," said Ford. "It's a pleasure to showcase work by established filmmakers like John-Michael Powell and get a glimpse at the next generation of Arkansas talent. We encourage any filmmakers with connections to the state to send their work for consideration and then come watch them on the big screen this fall during Filmland at AMFA."
Submissions for this year's Filmland: Arkansas are open through July 17th in the student and professional categories for short films and features. Panavision is returning with grants for the Audience Award Winners in the professional feature and professional short film categories! Visit FilmFreeway to submit.
About John-Michael Powell

John-Michael Powell has helped create award winning feature films, commercials and music videos, many of which have played networks, film festivals and theaters all over the world. His more notable editorial works include season three of the hit Netflix Series, Dear White People, created by Justin Simien; It Happened in L.A., written & directed by Michelle Morgan; Obselidia, winner of the Alfred P. Sloan Prize at Sundance 2010 and nominee of two Independent Spirit Awards, All The Wilderness (SXSW '14), starring Kodi-Smit McPhee, Isabelle Fuhrman, Danny Devito and Virginia Madsen; Bleeding Heart (Tribeca '15), starring Jessica Biel and Zosia Mamet; and The Brass Teapot (TIFF '12), starring Michael Angarano and Juno Temple.
As a writer/director, John-Michael made the award-winning short comedy "Shit You Knot," starring John Ennis (Dead to Me) and currently has multiple features in various stages of development including, The Sweet In Between (starring Jon Bernthal), The Killing Kind (starring Jane Lynch, Iddo Goldberg and David Dastmalchian), a thriller entitled Through Darkness set up at Star Thrower Entertainment (The Post) and a music-driven dramady entitled True Folk, set up at Sony Worldwide.
About Arkansas Cinema Society
Arkansas Cinema Society (ACS) is a non-profit committed to building a film community in Arkansas where film lovers can watch films, share ideas, connect with each other, and nurture the new and existing film talent within our state through increased exposure to filmmakers and their art. Memberships are available to the public at large who may wish to dive into educational videos, member-only tickets, movie swag, and more. Those interested in supporting ACS can visit their website at www.arkansascinemasociety.org.

About the Arkansas Museum of Fine Arts
Founded in 1937, the Arkansas Museum of Fine Arts is the largest cultural institution of its kind in the state, offering a unique blend of visual and performing arts experiences. AMFA is committed to featuring diverse media and artistic perspectives within its permanent collection of 14,000 works of art as well as through rotating temporary exhibitions. AMFA's international collection spans seven centuries, with strengths in works on paper and contemporary craft, and includes notable holdings by artists from Arkansas, the Mid-South region, and across the United States and Europe. With a vibrant mix of ideas, cultures, people, and places, AMFA extends this commitment to diversity through its dynamic children's theatre and performing arts program, the innovative Windgate Art School, and community-focused educational programs for all ages. Located in Little Rock's oldest urban green space, MacArthur Park, AMFA's landmark building and grounds are designed by Studio Gang and SCAPE, in collaboration with Polk Stanley Wilcox Architects.