THE ART OF ENGAGEMENT: Cynthia Post Hunt creates performances that ask the audience to share the human experience.
WORDS / K. SAMANTHA SIGMON
In 2015, performance artist Cynthia Post Hunt hurled herself into the Northwest Arkansas art scene. An alumna of the School of the Art Institute of Chicago, Post Hunt moved to Fayetteville in the fall of 2014. In a little over a year, the artist has performed and shown work locally at Backspace, Fayetteville Underground, The Shed, Lalaland, Bank of Fayetteville and Two25 Gallery, and recently gave a lecture at Bentonville's 21c as part of the Artist Spotlight Lecture Series.
     And that was just a warm-up.
     She is starting the INVERSE AR in Northwest Arkansas this spring, featuring more than 30 performance artists from around the world. That being said, she seems like our region's performance artist-in-residence, giving many folks a first-time participatory experience with the art form.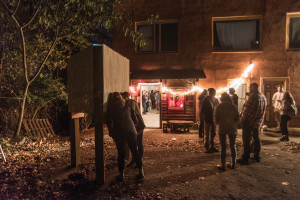 Post Hunt's work investigates the individual within the context of society through performance, dealing with aspects of consumption, generosity and loss, to name a few. In her work, a participatory repetition with others offers moments of reflection and introspection. She demands action from the spectator, asking them to explore the boundaries of their own vulnerabilities through engaging with the work. The premise for this "lies upon the assumption that as humans, we have common, shared experiences. By fixating on moments of shared realities, I aim to further explore the effects of being human," she said.
     At the School of the Art Institute of Chicago, Post Hunt came at art through photography, documenting beautiful and simple aspects of everyday things we may miss, like the decay of fruit or the tiny molecules that make up food. After graduating in 2008, she honed her do-it-yourself skills while living and collaborating with a diverse group of creatives, including a musician, a chef, two photographers, a fashion designer and a poet. They curated art shows, held concerts and spoken word events, organized photo shoots and yoga classes, built a brewery, produced a line of craft beers and lived every day life together. This collaboration was an integral experience in her life.
     The move to Northwest Arkansas was also important for her practice. "[The region] has welcomed me with open arms," she said. "I moved here hoping to establish a working practice, and the community and the space has allowed me to do so. It is invigorating to join the effort and dive head first into the unknown."
     Performed in the region, a majority of Post Hunt's current work investigates the grief of losing a loved one. With this in mind, she has been working on a new series based on a line in food writer Michael Pollan's book Cooked: A Natural History of Transformation – "when chopping onions, just chop onions." Using this, Post Hunt's performances deal with the complexity of death, loss and how we choose to grieve. "It is a very personal endeavor, and it asks a lot of the audience," she said.
     In her performances at the Shed and then at Backspace, Post Hunt takes Pollan's words literally and spends the entire performance at a table chopping onions. Commenting on onions' effect to make us cry and the sharing of loss and pain, she invites participants to cut onions beside her. At the Backspace all women art show last summer, all of these fell to the floor in pungent, purple, sticky heaps below the table.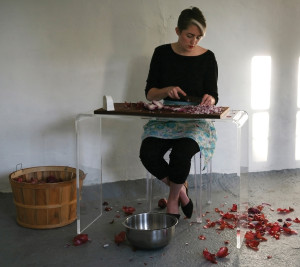 Her most recent performance "I Am Here" was created with artists Alexander Hanson and John C. Kelley, performed as part of Lalaland's One Nite Standard Series in November. The piece originated from ideas of lost or interrupted signals and missed communication, and relied on elements of call and response traditions. Using multiple sources for information, the viewer was left to interpret the question "where are you?" Post Hunt crouched inside of a wooden box outside the gallery for three hours while she was broadcast on AM radio and Periscope.
     Her work seems to always involve the act of sharing and participation. Taking this to another level, Post Hunt's festival, INVERSE AR, takes place from April 21-23 with the mission to elevate the medium of performance in the Northwest Arkansas region. Including artists recognized on local, national and international platforms, this festival hosts a large variety of performances. It also highlights the thriving art community in Northwest Arkansas. INVERSE AR is educational and collaborative, consisting of workshops, artist lectures and performances. Friday's events take place at 21c in Bentonville, and Saturday's at various venues in Fayetteville, including Backspace, Lalaland, Local Color Studio Gallery, the Shed and the Fayetteville Underground.
     "Never before had I considered starting something from scratch like INVERSE," Post Hunt said. "But, thanks to all who are here and who have come before, NWA is totally ready for it. The opportunities are here and so are the people. I am lucky."
     And we are lucky to have her, too.
Visit:  cynthiaposthunt.com