211 South presents new exhibition "Tether: Thomas Coffey & Stephanie Petet" from February to April 2021
 211 South, a contemporary art gallery located at 211 South Main St in Bentonville, within Engel & Völkers NWA offices, is pleased to present a two-person exhibition titled Tether: Thomas Coffey & Stephanie Petet, opening February 11, 2021. The exhibit will run until April 23rd, 2021. 
Both artists live and work in Northwest Arkansas, and both are abstract painters using bold color combinations and a poetic sensibility. Tether, the title of the exhibition, is used as both a verb and a noun. Tether keeps things tied together, or is the tie itself. Invisible bonds are all around us.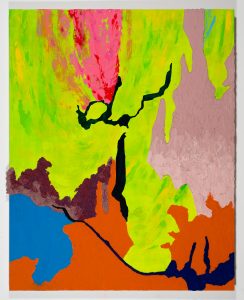 "I love the title "Tether" because it really gets at one of the central ideas of my work – connection. My paintings explore the relationship between ourselves and our environments, and the way that embodied perception allows those things to inform each other. I often feel very detached from my life and surroundings, and making these paintings allows me to draw close and establish an anchor." – Thomas Coffey.
"I feel like it sums up how both Thomas and I try to associate ourselves via process to the works emotional weight. Tether feels like a word of struggle and stamina, it is not an easy task." – Stephanie Petet.
Stephanie Petet is an artist and musician from Fayetteville, Arkansas. She graduated from the University of Arkansas in 2013 with her BFA in Art Education. She taught art at Life Styles Inc. and Arkansas Arts Academy High School and Middle School, and is now the Associate Music Director/Music Instructor at the School of Rock Fayetteville. Petet studied abroad in Rome in 2013 and attended a residency through the Art Students League of New York in Sparkhill, NY, in 2015. Her work is an in your face exploration of memory, space, and time via manic color, line, and form. www.stephaniepetet.com  
Thomas Coffey is a painter and educator living and working in Fayetteville, Arkansas. He has exhibited his work nationally throughout Arkansas, California, Oregon, and Washington. Last summer, in August of 2019, he was invited to participate in a residency and exhibition at Studio Kura, in Itoshima, Fukuoka Prefecture, Japan. He has taught for several years in the University of Arkansas School of Art's Foundations program and is currently working as a studio assistant to George Dombek. www.thomascoffey.com 
 Kellie Lehr is a visual artist and Curator for 211 South. She is a current MFA candidate at Lesley Art and Design in Boston. In 2019, she was selected for Art File by The Painting Center in New York and the 2019-2020 National Museum of Women in the Arts juried registry by its Arkansas committee. Exhibitions include 21C Museum Hotel in Bentonville, the 59th Annual Delta Exhibition at the Arkansas Arts Center in Little Rock, Tapped at Manifest Gallery in Cincinnati, and New Optics at The Painting Center in NYC. www.kellielehr.com  
211 South is a contemporary art gallery located at 211 South Main Street in Bentonville, AR, inside Engel & Völkers NWA's offices, focusing on showcasing exceptional artwork from local and regional artists. The gallery, opened in 2016, renovated and renamed (previously The Gallery at Midtown) in 2020, supports Engel & Völkers commitment to fostering connections in the community. Regular business hours are 9-5 pm and can be reached at (479) 268-5170.
Featured Image:  Stephanie Petet, My Space, 5′ x 7′, Oil and Spray paint on canvas